New, larger wave of locusts threatens millions in Africa



 Kenya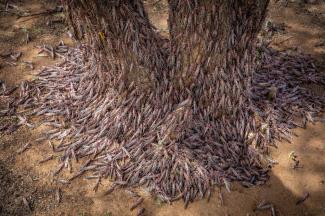 Climate Signals Summary: Climate change is making extreme rainfall more common, like the heavy rains East Africa saw in 2019, which creates perfect breeding conditions for locusts. There is also growing evidence that climate change may be impacting an ocean circulation pattern known as the Indian Ocean Dipole, which can bring more frequent cyclones to the region, like the one that set the stage for the current locust crisis.
---
Article Excerpt: Weeks before the coronavirus spread through much of the world, parts of Africa were already threatened by another kind of plague, the biggest locust outbreak some countries had seen in 70 years.
Now the second wave of the voracious insects, some 20 times the size of the first, is arriving. Billions of the young desert locusts are winging in from breeding grounds in Somalia in search of fresh vegetation springing up with seasonal rains.
Millions of already vulnerable people are at risk. And as they gather to try to combat the locusts, often in vain, they risk spreading the virus — a topic that comes a distant second for many in rural areas.
...
The U.N. Food and Agriculture Organization has called the locust outbreak, caused in part by climate change, "an unprecedented threat" to food security and livelihoods. Its officials have called this new wave some 20 times the size of the first.
"The current situation in East Africa remains extremely alarming as ... an increasing number of new swarms are forming in Kenya, southern Ethiopia and Somalia," a new FAO assessment said.
Favorable breeding conditions through May mean there likely will be another new round of swarms in late June and July, coinciding with the start of the harvest season, the agency said.
...
The locusts are "invading the Eastern Africa region in exceptionally large swarms like never seen before," the Nairobi-based Climate Prediction and Application Center said.
The new swarms include "young adults," voracious bugs "that eat more than the adult ones," said Kenneth Mwangi, a satellite information analyst at the center.
...
In Ethiopia, where some 6 million people live in areas affected by the locust outbreak, the infestation if unchecked "will cause large-scale crop, pasture and forest-cover loss, worsening food and feed insecurity," the FAO says.