New NOAA Maps Show the Torrents Harvey Unleashed on Texas
,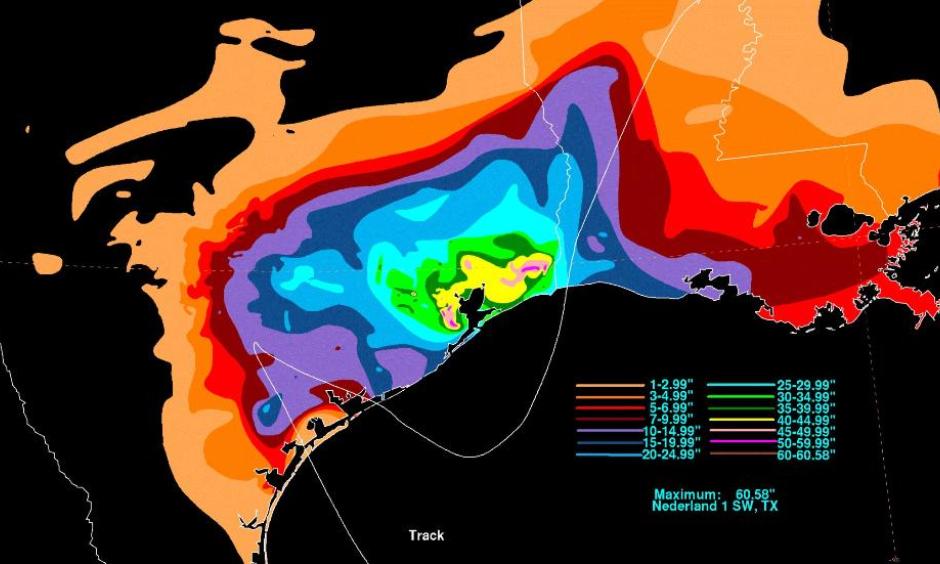 The top rainfall total is 60.58 inches in Nederland, Texas, from Aug. 24-Sep. 1. A second site – Groves, Texas – also topped the previous record by receiving more than 60 inches during that same time period.
Pending final confirmation, this rainfall total would be the heaviest from any tropical cyclone in the U.S. in records dating to 1950, topping the 48-inch storm total in Medina, Texas, from Tropical Storm Amelia in 1978, according to Roth's research.
In a secondary climax south of the Houston metro, more than 50 inches of rain fell mainly in parts of Harris and Galveston counties, including the Houston suburbs of Friendswood and League City. Additional communities that saw more than 50 inches include:
60.58 inches near Nederland, Texas (new national Tropical Cyclone rainfall record)
60.54 inches in Groves, Texas (also more than the previous national Tropical Cyclone rainfall record set in 1978)
56 inches in Friendswood, Texas
54.77 inches near Santa Fe, Texas
54 inches near Bunker Hill Village, Texas
52.87 inches on Clear Creek at Interstate 45 near League City, Texas