New York City Wages War on the Zika Virus
Washington Heights, New York, NY
,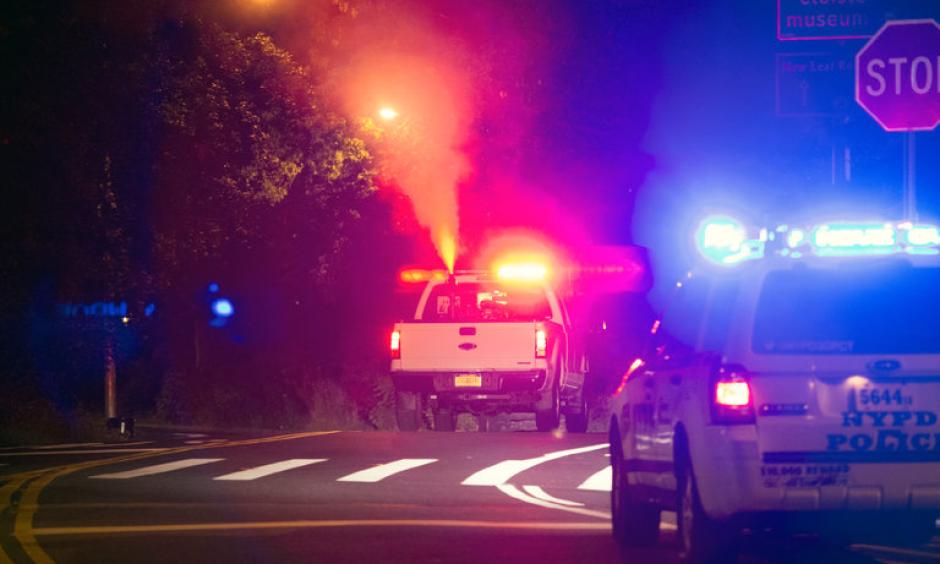 It was well after midnight on a hot and sticky weeknight in Washington Heights in Upper Manhattan when the hunt got underway.
A police car rolled slowly through the empty neighborhood in the predawn hours, its lights casting shadows on the buildings as a voice over a loudspeaker blared a warning to clear the streets.
Following behind, at six miles per hour, was a white pickup truck carrying men in protective clothing and equipped with a machine intended to cast off a cloud of poison targeting the prey: mosquitoes.
The droplets would awaken any insects in the area, cause them to take flight and then kill them.
The spraying is called adulticide — as opposed to larvicide, or killing insects before they hatch — and it was the first time that such a truck had ever rolled through the neighborhood.
...
"We are just trying to kill Aedes mosquitoes," Mary T. Bassett, the city's health commissioner, said in a speech on Friday at New York Law School. "We are trying to push down a potential vector without evidence that it is yet a public health threat."
At the current rate, Zika is on course to infect more than 90 million people around the world in the first wave of the epidemic, according to a study published last month in the journal Nature. That includes about two million women of childbearing age, and it could result in tens of thousands of babies born with devastating birth defects.
...
New York has deviated from the Centers for Disease Control and Prevention's guidance on mosquito control, which has been used in places like Miami. There, each case of Zika contracted overseas has been tracked and then an aggressive control effort is made near the home of the infected person.
But in New York, a city of over eight million people with nearly 500 imported cases of Zika — about one-quarter of the national total — health officials have preferred to use enhanced surveillance, demographics and information about known travel patterns of residents to target certain parts of the city as opposed to tracking individuals