New York, Philadelphia, and D.C. just endured a historically warm September night
New York, NY
Philadelphia, PA
Washington, DC
,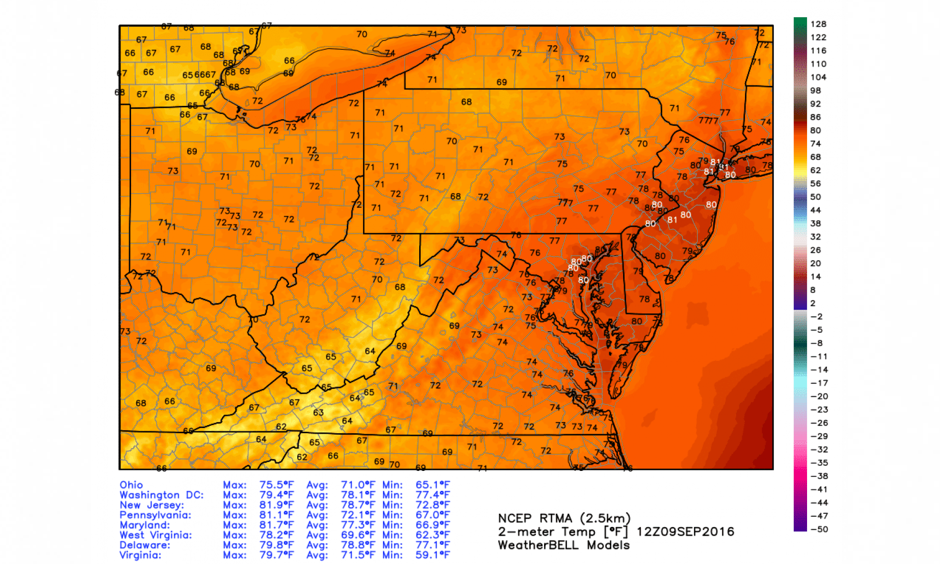 One of the strongest findings of climate science is that global warming amplifies the intensity, duration and frequency of extreme heat events.[1] These events occur on multiple time scales, from a single day or week, to months or entire seasons. The signal of climate change is particularly reflected in record-breaking heat waves. Records are more likely to be broken when natural variation runs in the same direction as climate change, in this instance towards hotter weather.
It's September. Nights are supposed to turn crisp, not settle at levels considered sultry by mid-July standards.
Yet the low temperatures at New York, Philadelphia and Washington hovered around 80 degrees this morning, which is extremely rare if not unprecedented for the month of September.
In fact, if temperatures don't fall before midnight, Philadelphia and New York City will have witnessed their warmest September low temperatures ever recorded. And Washington will have come close...
All three locations are nearly certain to establish record warm low temperatures for today's date, Sept. 9 (passing 77 from 1884 in New York, and 75 from 2015 in Philadelphia and Washington)