NOAA declares third ever global coral bleaching event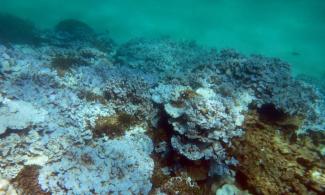 As record ocean temperatures cause widespread coral bleaching across Hawaii, NOAA scientists confirm the same stressful conditions are expanding to the Caribbean and may last into the new year, prompting the declaration of the third global coral bleaching event ever on record.
Waters are warming in the Caribbean, threatening coral in Puerto Rico and the U.S. Virgin Islands, NOAA scientists said. Coral bleaching began in the Florida Keys and South Florida in August, but now scientists expect bleaching conditions there to diminish.
...
While corals can recover from mild bleaching, severe or long-term bleaching is often lethal. After corals die, reefs quickly degrade and the structures corals build erode. This provides less shoreline protection from storms and fewer habitats for fish and other marine life, including ecologically and economically important species.
This bleaching event, which began in the north Pacific in summer 2014 and expanded to the south Pacific and Indian oceans in 2015, is hitting U.S. coral reefs disproportionately hard. NOAA estimates that by the end of 2015, almost 95 percent of U.S. coral reefs will have been exposed to ocean conditions that can cause corals to bleach.