North Korea makes rare public appeal for flood relief
,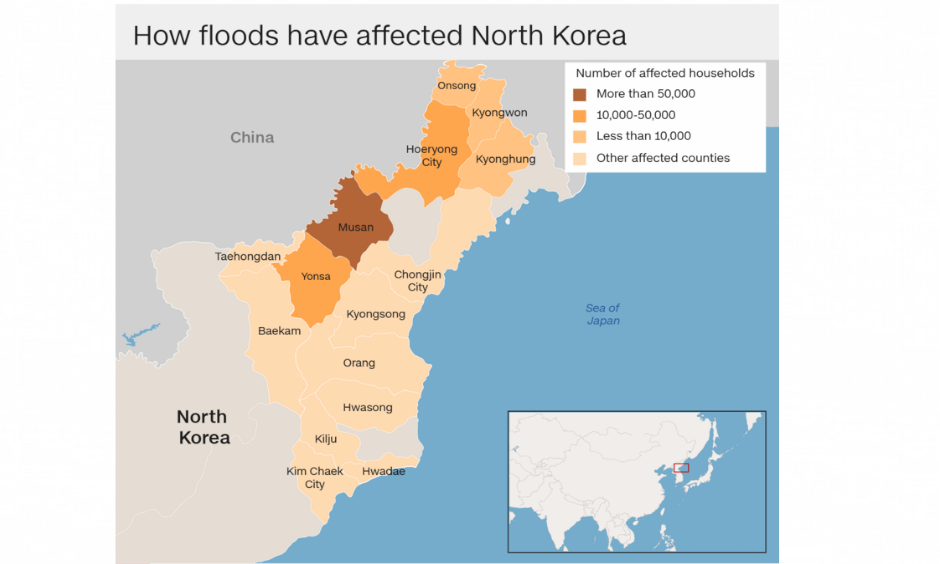 One of the clearest changes in weather globally is the increasing frequency of heavy rain.[1][2] As the global average temperature increases, so too does the ability of the atmosphere to hold and dump more water when it rains.[3] The average moisture content of the atmosphere has increased by about 4 percent since the 1970s, as expected from the Clausius–Clapeyron law, and Storms reach out and gather water vapor over regions that are 10-25 times as large as the precipitation area, thus multiplying the effect of increased atmospheric moisture.[3][4]
North Korea usually projects itself to the world as a fully functioning worker's paradise.
Yet severe flooding in the country's northeast has resulted in a rare admission that all is not so well.
According to a report published Sunday by the Korean Central News Agency (KCNA) -- North Korea's official state media -- the country's northeast has been affected by the "heaviest downpour" since 1945, with "tens of thousands" of buildings destroyed and people left homeless and "suffering from great hardship."
Figures released by the United Nations' Office for the Coordination of Humanitarian Affairs confirmed the natural disaster.
Citing North Korean government data, the report described how heavy rains resulting from Typhoon Lionrock had triggered flooding in areas such as Musan and Yonsa counties and Hoeryong City in North Hamgyong province. So far, 133 people have been killed, 395 people are missing and 140,000 people are in "urgent need of assistance."
The sheer scale of the disaster has led the North Korean government to ask for help.
"It's not unheard of, but it's rare for the North Korean government to make an open and public call for assistance," Bradley Williams, a international relations professor at City University in Hong Kong, told CNN