The North Pole is an insane 36 degrees warmer than normal as winter descends



 Arctic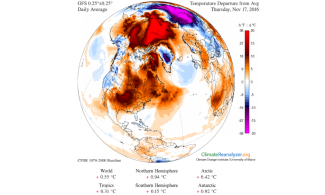 It's polar night [in the Arctic] now — the sun isn't rising in much of the Arctic. That's when the Arctic is supposed to get super-cold, when the sea ice that covers the vast Arctic Ocean is supposed to grow and thicken.
But in fall of 2016 — which has been a zany year for the region, with multiple records set for low levels of monthly sea ice — something is totally off. The Arctic is super-hot, even as a vast area of cold polar air has been displaced over Siberia.
At the same time, one of the key indicators of the state of the Arctic — the extent of sea ice covering the polar ocean — is at a record low. The ice is freezing up again, as it always does this time of year after reaching its September low, but it isn't doing so as rapidly as usual.
In fact, the ice's area is even lower than it was during the record-low 2012.
...
So what's going on here?
"It's about 20C [36 degrees Fahrenheit] warmer than normal over most of the Arctic Ocean, along with cold anomalies of about the same magnitude over north-central Asia," Jennifer Francis, an Arctic specialist at Rutgers University, said by email Wednesday.
"The Arctic warmth is the result of a combination of record-low sea-ice extent for this time of year, probably very thin ice, and plenty of warm/moist air from lower latitudes being driven northward by a very wavy jet stream."