Oroville Dam spillway passes first major test since repairs



 United States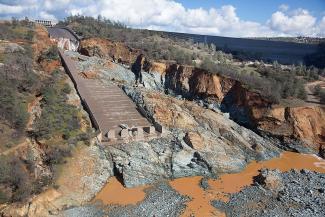 The floodgates of the Oroville Dam opened a couple of minutes before 11 a.m. Tuesday and water rushed down the spillway into the Feather River for the first time since 2017, when the main and emergency spillways partially collapsed.
...
"This is not a test," Mellon said. "It's an actual use of the spillway due to projected levels in the coming days."
Two storms are forecast to hit Oroville this week with peak rainfall arriving late Tuesday, followed by a stronger storm later in the week.
The reservoir, on the Feather River about 75 miles north of Sacramento, is currently three-quarters full, but if the storms fill it above safety levels and the spillway is needed, dam officials are confident the chute will hold.
The dam's main concrete spillway failed so severely in February 2017 that nearly 200,000 residents were ordered to evacuate and officials employed the emergency spillway that poured water over a mostly barren hillside. It quickly eroded as the deluge cascaded down the hillside.
The state spent $1.1 billion repairing both spillways, reinforcing the concrete with 12.4 million pounds of steel rebar. The half-mile-long main spillway, where the initial fracture occurred, is now as wide as a 15-lane freeway and averages 7½ feet thick, compared with 2½ feet in the original 1960s version. It is capable of handling up to 270,000 cubic feet of water per second — far more than dam operators ever expect to release and 56% increase from the capacity of the old chute, which could handle only 160,000 cubic feet per second.