As Phoenix Heats Up, the Night Comes Alive
,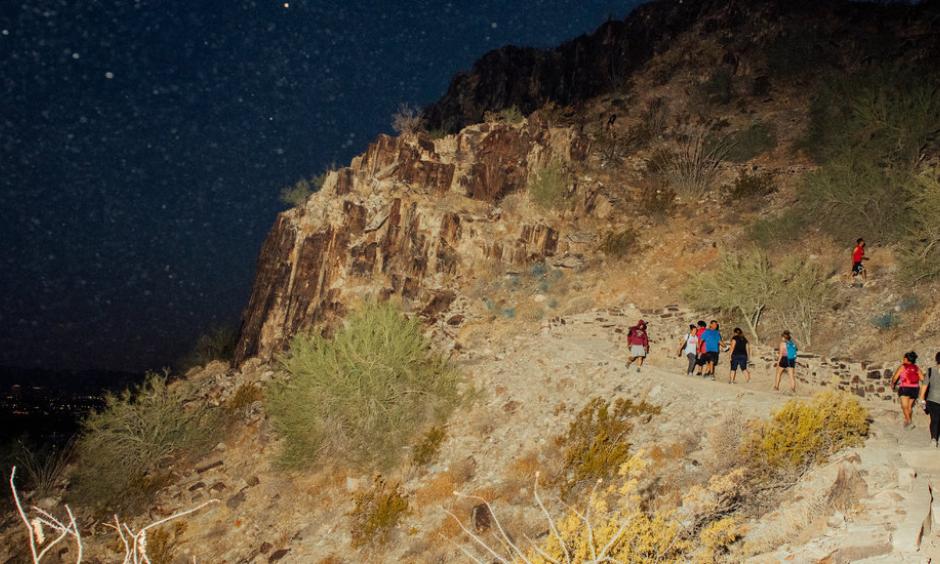 Dozens of hikers set out for the summit of Piestewa Peak on a July evening, their flashlights dancing in the dark. "You feeling O.K.?" Trevor Plautz, a park ranger, asked two women, one of whom had stumbled and was breathing hard. "You have enough water?" Both soon turned back, moving slowly down unlit rocky switchbacks. An owl chittered.
"You definitely feel the heat, but the nights are better," Mr. Plautz said. "A lot of people hike right now instead of during the day because it is a lot cooler."
Phoenix, which had 128 days at or above 100 degrees Fahrenheit last year, is one of the hottest and fastest-warming cities in the United States. Although it is on the leading edge, it is not alone: Most American cities are expected to drastically heat up in the next decades. Many may have summers with heat waves and triple-digit days — summers that resemble Phoenix today.
Here in the Valley of the Sun, that means work and play shift into the cooler hours. Neighborhoods thrum with activity at dawn and dusk when residents hike, jog and paddleboard. In the hottest months, the zoo opens at 6 a.m., for the benefit of both animals and visitors. And across the city, certain construction work starts in the middle of the night — not only for the safety of workers, but also because even some building materials can be affected by intense heat.
...
Last year, heat caused or contributed to the deaths of 182 people in Maricopa County, which includes Phoenix. Preliminary figures suggest the toll this year will be similar, if not higher, according to the health department. Thirty-six percent of those who died in 2018 were 65 or older and at least 23 percent were homeless. Recent research found that mobile home residents are also especially vulnerable. In 2012 and 2014, nearly half the indoor heat deaths occurred in mobile homes, said Patricia Solís, a geographer at Arizona State University.