Plains Wildfires Ignite, Destroying Homes in Colorado, Oklahoma



 United States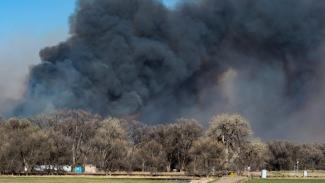 A large inferno in western Oklahoma dubbed the Rhea Fire has burned more than 390 square miles, destroyed dozens of structures and forced hundreds of people to evacuate in Dewey County since Thursday, according to fire officials.
...
Strong winds, dry air and parched land combined to create a life-threatening danger, and fire crews were on alert from Arizona to Kansas.
"With these conditions, wildfires can spread rapidly, present control issues for firefighters and pose a real threat to public safety," Texas A&M Forest Service Fire Chief Mark Stanford told the Associated Press.