Plains Wildfires Ignite: At Least 23 Homes Destroyed in Southern Colorado Blaze; 50 Homes Claimed by Rhea Fire in Oklahoma



 United States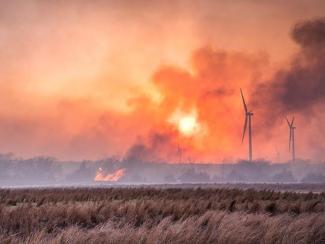 Residents in Colorado and Oklahoma watched helplessly from afar as aggressive grass fires destroyed their homes amid some of the most extreme fire conditions in years.
At least 23 homes were destroyed by a blaze that started Tuesday between Colorado Springs and Pueblo, El Paso County Sheriff Bill Elder told the Associated Press. The fire grew rapidly, torching 64 square miles, but no injuries were reported. It was 25 percent contained as of Wednesday night.
A separate fire near Colorado Springs chased 200 families from their homes and destroyed at least five dwellings and several outbuildings, the AP also reported. It's not believed anyone was hurt by the wind-driven wildfire.
In western Oklahoma, a blaze dubbed the Rhea Fire has burned more than 440 square miles – an area larger than New York City; it has destroyed at least 50 homes and forced hundreds of people to evacuate in Dewey County since Thursday, according to fire officials. The conflagration is just 3 percent contained as of Wednesday morning, KOKH-TV reported.