Portugal Fires Kill More Than 60, Including Drivers Trapped in Cars
,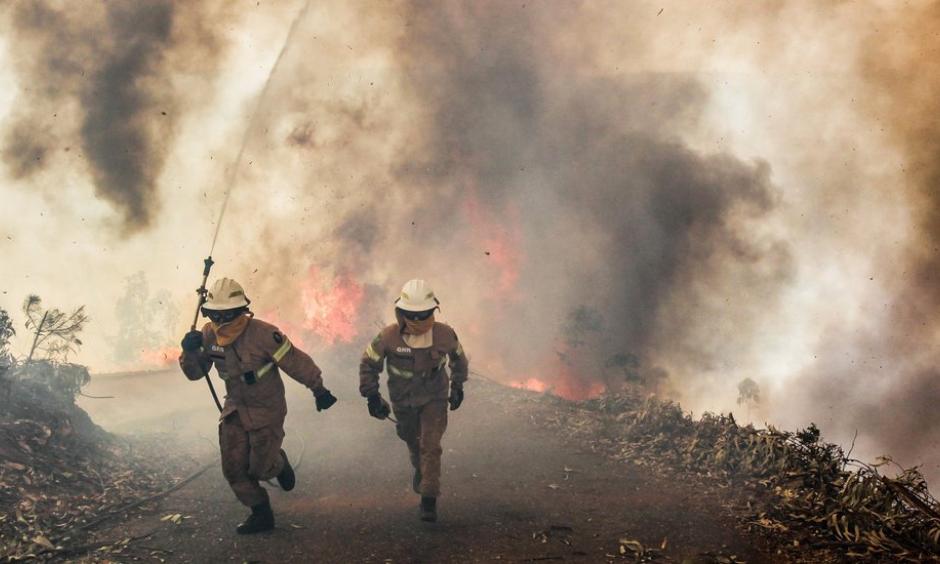 Archiver's preface
The fire erupted amid high temperatures above 100°F (40°C) and grew rapidly due to dehydrated woodland and powerful winds.
Research shows that changes in climate have led to hot, dry conditions that can boost fire activity. Wildfire risk depends on a number of factors, including temperature, soil moisture, and the presence of trees, shrubs and other potential fuel. All these factors have strong direct or indirect ties to climate variability and climate change. Warmer temperatures and drier conditions increase the chances of a fire starting, or help a burning fire spread.
In Portugal, weather and fuel moisture are most closely related to area burned, whereas fire ignitions are primarily human-caused.[1] A 2009 study investigating the impact of climate change on fire activity in Portugal finds that the annual average area burned from 2000 to 2005 was 107 percent higher than the 1990s, which was already 40 percent higher than the 1980s.[1] The study also finds that future area burned will likely increase 478 percent for Portugal as a whole by 2071-2100.
Area burned (% of forested area) and number of fires for Portugal in 1980–2005.
Article excerpt
A raging forest fire enveloped a stretch of road in central Portugal this weekend, killing more than 60 people, including at least 30 motorists who were trapped in their cars.
The fire, which was still burning on Sunday afternoon, has brought "a dimension of human tragedy that we cannot remember," Prime Minister António Costa said during a visit to the scorched area around Pedrógão Grande.
The initial deadly blaze started on Saturday and the flames spread along four fronts with "great violence," said Jorge Gomes, the secretary of state for internal administration. By Sunday afternoon, five infernos were raging in central Portugal, he said.
The death toll stood at 61, according to Lusa, the national news agency. Officials said they expected the toll to rise.
...
Portugal, where summer wildfires are common, has been experiencing a heat wave for several days, with temperatures climbing above 100 degrees Fahrenheit, or 40 degrees Celsius.
Wildfires are very unpredictable, firefighting experts say, especially when high temperatures, low humidity and a particularly dry landscape create a vast tinderbox in large wooded areas.
"We know fire behavior has changed and continues to change, yet we continue to be surprised every time, when we shouldn't be," said Don Whittemore, a former assistant fire chief in Colorado who has studied wildfire behavior. "The notion that firefighters will be able to put out, suppress or make safe a wildfire is becoming less and less of a reliable notion."
...
President Marcelo Rebelo de Sousa paid tribute to the firefighters early on Sunday, saying they faced the toughest conditions possible: "temperature, wind and zero humidity."