Possible New World Record for Lowest Barometric Pressure: 860 mb?



 Philippines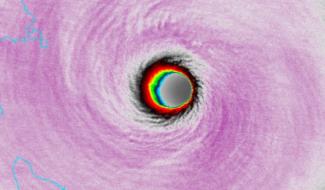 A study published in October in the journal Weather (British Royal Meteorological Society) has proposed that the central pressure of Super Typhoon Haiyan, which ravaged the Philippines in November 2013, fell to 860 mb (25.40") on November 7, when the storm attained its peak intensity just prior to making landfall on Samar Island. If true, this would establish a new world record for lowest sea-level pressure yet observed or estimated on Earth's surface, surpassing the currently accepted figure of 870 mb (25.69") attributed to Typhoon Tip on October 12, 1979.
Below is a table of all the tropical cyclones that have estimated or measured central pressures of 885 mb or lower. It is likely that there were other such extreme events, especially in the West Pacific Basin, prior to regular remote monitoring of tropical cyclones. This monitoring includes aerial reconnaissance that began in the Pacific and Atlantic in the late 1940s, and satellite observations that began in the late 1960s.
Lowest observed and measured barometric pressures at sea level during tropical cyclones worldwide since 1950.