A powerful storm is gearing up to slam the Northeast, and it could topple records
,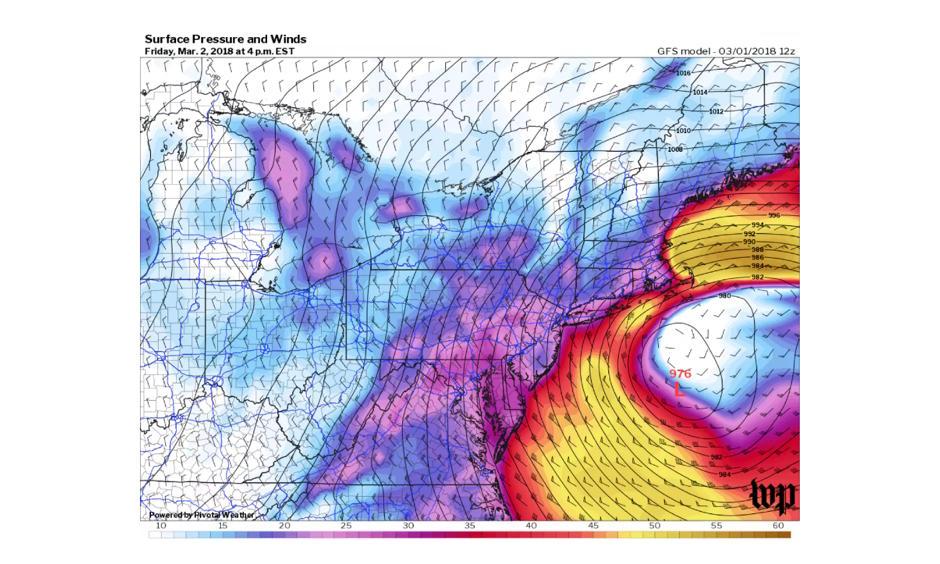 On Friday and Saturday, a powerful storm will lash the Northeast with destructive coastal flooding, wind and heavy snow. It is shaping up to be the most destructive nor'easter of the season, perhaps the most destructive in decades for some along the coast.
The coastal flooding could be worse than what New England experienced during the "bomb cyclone"in early January. Storm surge in eastern Massachusetts seems likely to match or exceed the levels of the early January storm as well as the Blizzard of 1978. With a massive, damaging wind field, it will mimic the impact of Hurricane Sandy in 2012.
The flooding
The timing of this nor'easter could not be worse. It coincides with the full moon, when tides are at their highest. Coastal flooding already began Thursday morning because of high tide alone. On Friday and Saturday, 3 to 5 feet of storm surge will be added to the tides. There will also be extra inundation from waves, which are expected to reach a height of 30 feet offshore.
Southern New England will bear the brunt of the coastal flooding, with onshore winds forecast to last through at least Saturday evening.
In Boston, major flooding could begin as early as Friday morning. The storm will last through three tide cycles: noon Friday, midnight Saturday and noon Saturday.
...
The wind
The duration and intensity of this storm's wind has meteorologists comparing it to Hurricane Sandy. Some computer models are predicting wind gusts to top 70 mph in the Northeast, and will come close to, if not surpass, 60 mph as far south as the Washington-Baltimore region.
...
The snow
To be clear, the snow seems like the least of this storm's problems. Still, accumulation could exceed two feet in high elevations, and along the coast where winds are strong, visibility could be drastically reduced.