Rare January Hurricane Alex Landfalls in The Azores as a Tropical Storm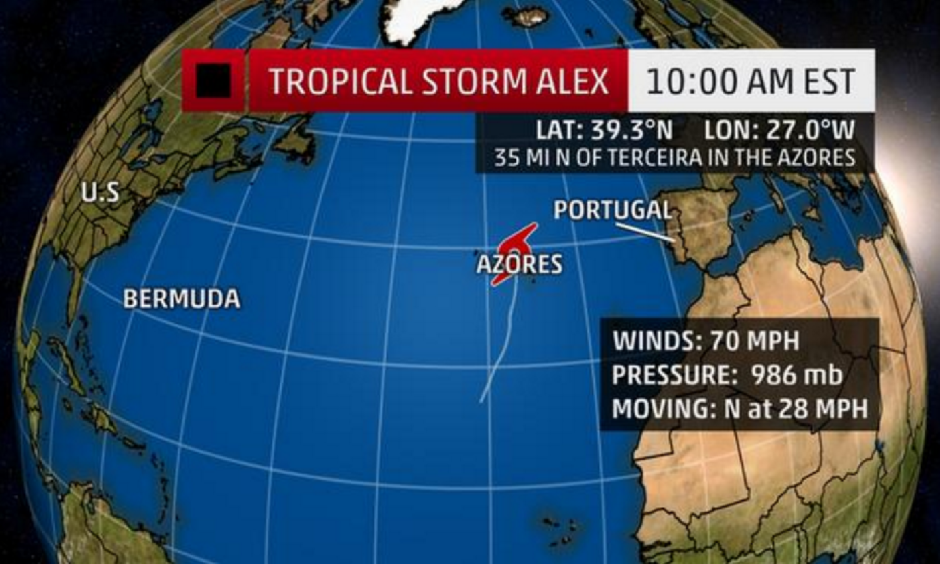 A rare January Atlantic hurricane, Alex, made landfall in The Azores early Friday as a tropical storm, according to the National Hurricane Center, and is now making the transition to a non-tropical low-pressure system in the northeast Atlantic Ocean...
Alex first became a hurricane in the eastern Atlantic Ocean Thursday, making it just the second hurricane on record to form in that basin during the month of January. The last hurricane that formed in the Atlantic during January was in 1938, according to NOAA's historical hurricane tracker database. Alex is also the first hurricane to occur in the Atlantic in January since Alice in 1955. Alice initially formed into a hurricane on Dec. 31, 1954, but then remained a hurricane into early January 1955.
Alex became the strongest January hurricane on record Thursday when its winds reached an estimated 85 mph. This surpassed the 80-mph peak of both Alice and the 1938 hurricane.
Alex was also only the second hurricane to form in any month in a zone of the eastern Atlantic Ocean east of 30 degrees west longitude and north of 30 degrees north latitude. Hurricane Vince in 2005 was the only other in the historical record.