Record-breaking heat wave to scorch Southern California
,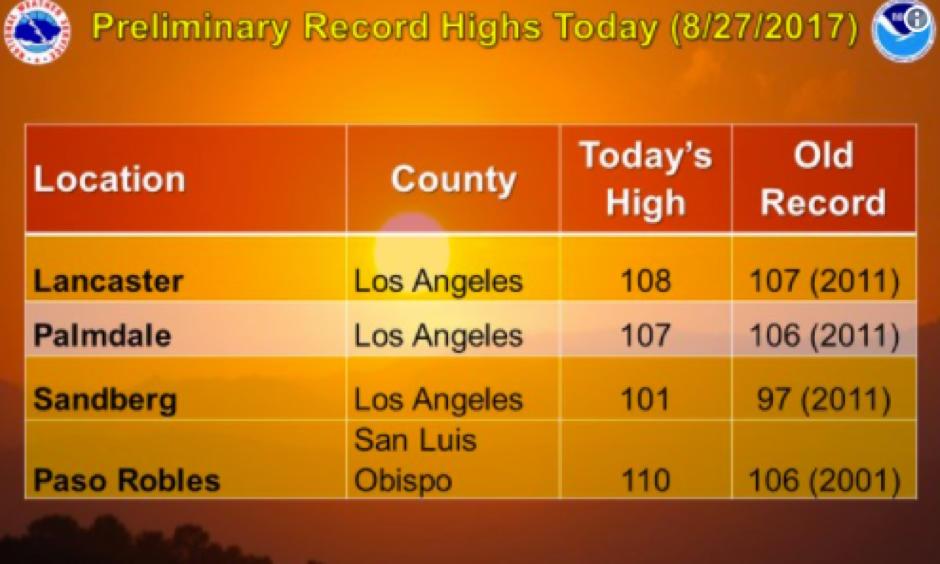 The National Weather Service on Monday issued an excessive-heat warning through Wednesday, saying the high temperatures will create "a dangerous situation" this week.
The Antelope Valley and other inland valleys are expected to face the worst heat this week, with triple-digit temperatures.
The record books are already being rewritten in places such as Lancaster and Palmdale.
On Sunday, temperatures ranged from the high 70s along the coast and in downtown Los Angeles to 106 in Woodland Hills, 102 in Van Nuys and 116 in Palm Springs.
Records were shattered Monday when temperatures reached 111 in Woodland Hills, 109 in Lancaster, 108 in Palmdale and 104 in Sandberg, according to the weather service. Records in the latter three areas were set in 2008, when temperatures had reached 107 in Lancaster and Palmdale, and 97 in Sandberg.
The Central Valley will be slammed Tuesday as it flirts with a few records.
The National Weather Service is forecasting highs of 108 in Fresno and 109 in Bakersfield.
It has not, been that hot on Aug. 28 in Fresno since Calvin Coolidge was president — it hit 108 in Fresno on that date in 1888 and 1924.
The last time Bakersfield was this hot on Aug. 28 was in 1944, and earlier in 1924.
The Kern High School District canceled or postponed all outdoor and indoor athletic activities because of the extreme heat, the Bakersfield Californian reported.