Record-Melting Fall Heat Wave Bakes Southern California
,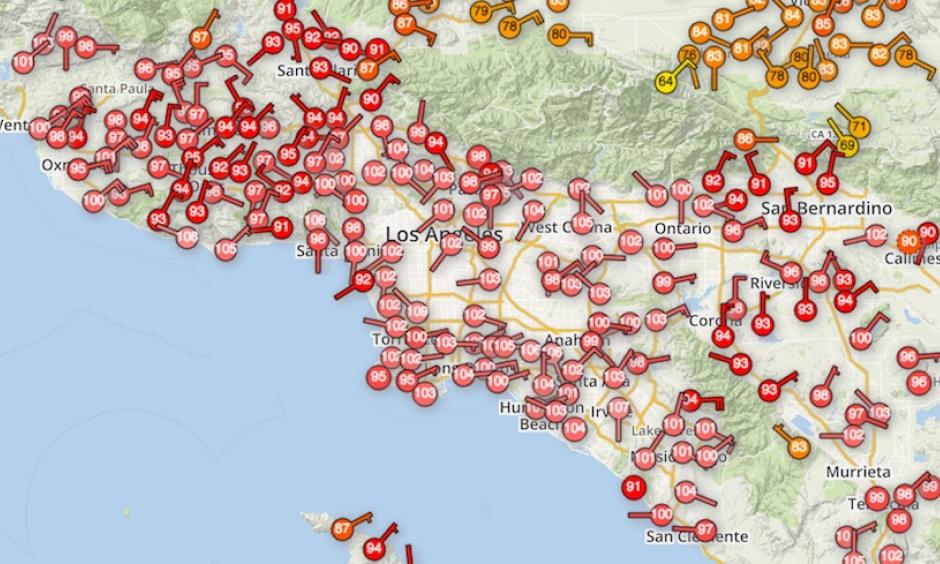 It's not every October 23 or 24 that millions of Americans are swathed in temperatures above 100°F. This week has done just that, bringing some of the toastiest weather ever observed in the United States during late October, and more pre-Halloween heat is on the way. By far the most scorching weather has been in Southern California, although it's also been exceptionally mild this month in settings as far-flung as Michigan, Florida, and New England.
A multi-day summer-like heat wave kicked into high gear on Monday and continued Tuesday along and well inland from the California coast, from Santa Barbara through Los Angeles to San Diego. Dozens of locations record highs for the date and all-time highs for this late in the year, and Santa Ana winds kept the temperatures amazingly warm throughout Monday night. In Orange County, the city of Fullerton soared to 107°F on Monday. According to WU weather historian Christopher Burt, this is likely the hottest single temperature recorded anywhere in the United States so late in the year. Even Death Valley has never recorded a temperature this high after October 16 in any year! For comparison, the national U.S. record high for November is 105°F, most recently at Tustin Irvine Ranch, California, in 1997.