Record Warmth Continues Wednesday in East, South
Springfield, MO
Shreveport, LA
Tyler, TX
Jacksonville, FL
Tampa, FL
Scranton, PA
Binghamton, NY
,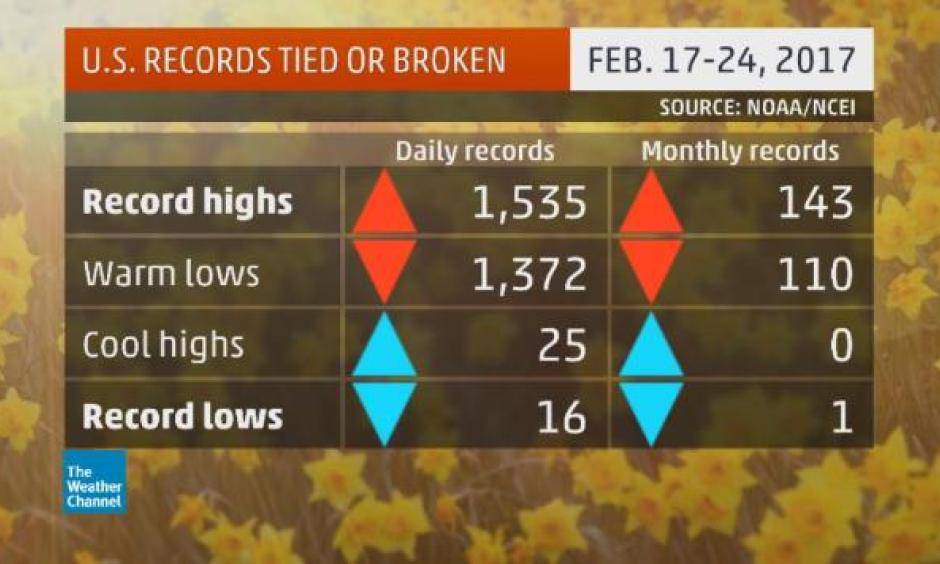 Just days after last week's warmth shattered thousands of daily records and over two hundred monthly records, a new warm up broke dozens of record highs from the Midwest to the East and South to finish February and begin March.
A southward dip in the jet stream over the West resulted in the jet stream surging northward into Canada over the eastern U.S. In addition, southerly winds ahead of a cold front allowed warm air to engulf much of the East.
Several record highs were tied or broken Tuesday, including in Springfield, Missouri (77 degrees), Shreveport, Louisiana (85 degrees), Tyler, Texas (68 degrees), Jacksonville (87 degrees), Tampa (86 degrees), Scranton, Pennsylvania (64 degrees), and Binghamton, New York (58 degrees).
On Wednesday, numerous record highs were once again broken (new record): Columbia, South Carolina (84 degrees), Norfolk, Virginia (83 degrees), Richmond, Virginia (81 degrees), Albany, New York (66 degrees), Jacksonville, Florida (88 degrees).
The eastern half of the United States endured one of the warmest streaks of February weather on record. The warmer-than-average temperatures broke thousands of records, including over 400 all-time February record highs.