Remnants of Tropical Cyclone Gita Bring Heavy Rain, Flooding to New Zealand



 New Zealand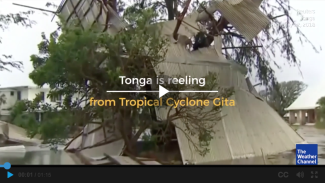 New Zealand's Christchurch and two other districts declared a state of emergency Tuesday as the remnants of Tropical Cyclone Gita slammed into the South Island.
Several homes were evacuated, dozens of schools closed and flights were canceled as the remnants of the storm that devastated Tonga last week began its onslaught of New Zealand with heavy rain and flooding, the Associated Press reports.
Thousands of homes were without power Tuesday, and residents in Christchurch were asked to limit water consumption in light of the heavy rainfall overwhelming the city's wastewater system.
Ahead of the storm, the military was deployed to towns expected to be hardest hit.
The remnants of the storm are expected to track across central New Zealand Tuesday night local time, according to weather.com meteorologist Linda Lam. Wind gusts up to 70 mph are possible through Wednesday and heavy rainfall may also cause flooding and landslides.