Rivers in the sky: Why California is flooding



 United States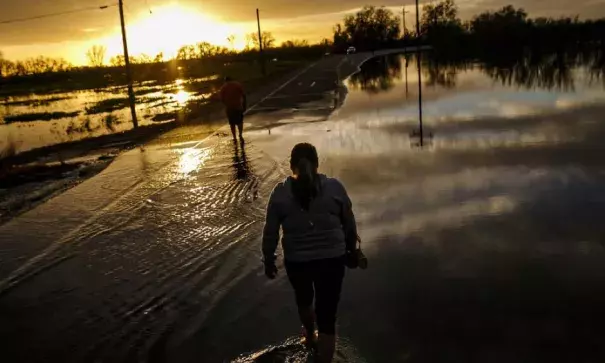 This winter demonstrates how too much of a good thing - in this case, rain and mountain snow - can lead to severe problems.
This is increasingly important, since human-caused global warming is already causing both ends of the weather extremes spectrum — too little water and too much — to occur more frequently and with greater intensity.
So, what is it about these California storms that separates them from ordinary low pressure systems that affect other parts of the country?
First, there is the amount of moisture they're carrying, and where this moisture originates. The cause of California's drought-busting flood woes lies thousands of miles off the Pacific coast, near Hawaii.
It's in this area that so-called "atmospheric rivers" are born, and for this reason, such storms are often referred to as "Pineapple Express" events, owing to the produce closely identified with Hawaii. These storms account for the majority of California's heavy rain events, both this winter and throughout history. (Atmospheric rivers also affect other parts of the world.)
From Hawaii, upper level winds channel air laden with water vapor — the gas form of liquid water — like veins in the atmosphere's circulatory system. Once this moisture butts up against the Golden State, it is lifted by storm systems and terrain, producing clouds and precipitation.
Atmospheric rivers can produce extraordinary precipitation totals.
The National Oceanic and Atmospheric Administration (NOAA), for example, found that a strong atmospheric river, such as the one that hit California last weekend, can transport "an amount of water vapor roughly equivalent to 7.5 [to] 15 times the average flow of liquid water at the mouth of the Mississippi River."
...
During the past several years alone, California has seen an epic drought and record warm summers followed by an unexpectedly prolific and destructive rainy season. Experts say this should be seen through the prism of global warming, otherwise infrastructure planners may not learn the lessons needed to better fortify the extreme weather-prone state.
Over the longer-term, precipitation extremes in many parts of the globe have become more frequent and intense, studies have shown.
...
Noah Diffenbough, a climate scientist at Stanford University, says California's wet winter demonstrates how we're already hitting the limits of water infrastructure that was designed in a completely different climate.
"We know that the climate is different now than when our water infrastructure in the West was designed and built," Diffenbough said.
He said adapting to climate change means building a more resilient, less risk-prone water management system in California. "We're already incurring great costs for the climate that we have now," he said.