To Save Chilean Wine, Producers Head South
,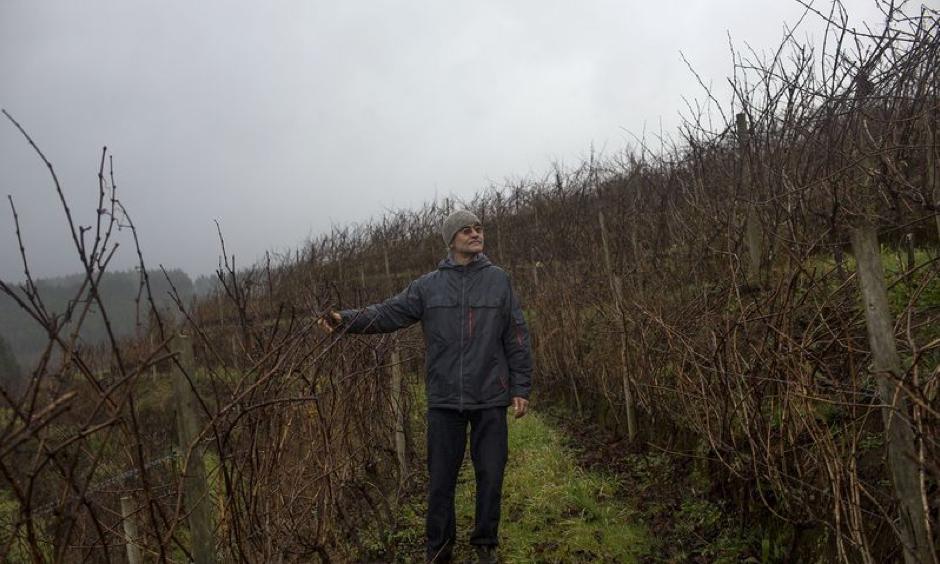 Faced with increasingly inhospitable growing conditions, the Chilean wine industry is moving south and experimenting with new vines.
Deep in Chile's rain-soaked forest of La Union, 490 miles south of Santiago and accessible only by 4x4 vehicles, is a rather unusual vineyard. Vina Trapi produces chardonnay, sauvignon blanc, pinot noir, and riesling from vines planted in the muddy hills. The region sees an average of 1.33 meters of rainfall a year, compared with just 37 centimeters in the Valparaiso region, where most Chilean vineyards are located.
...
Chile saw record high temperatures this summer, triggering the worst wildfires in living memory. Forestry plantations, vineyards and native forests were all damaged.
This year, there was "a hot spring and an intensively hot summer," said Francisco Meza, a professor of agriculture at the Universidad Catolica in Santiago. The heat rushed crops through their growth cycles 10 percent faster than usual, he said.
The grape harvest was moved up by three weeks this year as a result of the scorching temperatures, and production dropped by more than 10 percent compared with the previous year's, according to a report issued by Chile's Agriculture Ministry in April.
Vina Trapi, however, was unaffected by the heat, thanks to the heavy rainfall, Moller said.
An increasing number of vineyards located in the historical Colchagua, Casablanca, and Leyda valleys have begun exploring moves south as well, said Christian Porte, owner of the Coteaux de Trumao vineyard in the rainy Los Lagos region.
"Vineyards from central Chile are investing more and more in this area, escaping from climate change," Porte said. "There is a real opportunity to do great Pinot Noir here... It needs the acidity of the south."
Though climate change is undeniable, it's not happening rapidly enough to justify moving vineyards immediately, said Aurelio Montes, director of Montes Wines.
...
The pace of climate change over the next two decades will force central Chilean wineries to make important decisions about the future of their businesses, said Professor Meza.
"An investment decision is tremendously important for wineries, which is why the majority prefers waiting for more evidence and certainty in terms of magnitude and reach before moving," he said.