Scientists just discovered a massive new vulnerability in the Antarctic ice sheet



 Antarctica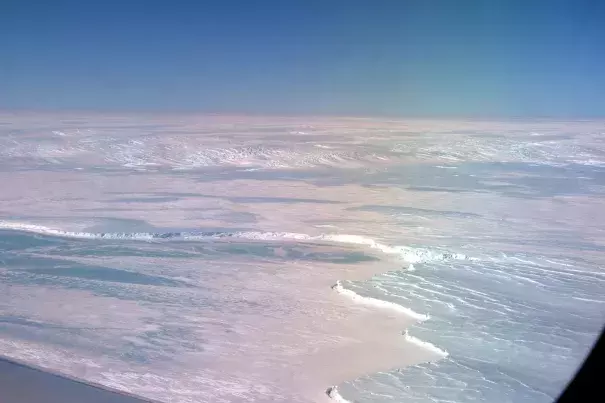 Climate Signals Summary: Climate change is causing rapid ice sheet and glacier melt in Antarctica, which is significantly accelerating sea level rise.
---
Article Excerpt: Scientists have found a new point of major vulnerability in the Antarctic ice sheet, in a region that already appears to be changing as the climate warms and has the potential to raise sea levels by nearly five feet over the long term.
...
Denman glacier, which fills the submerged canyon with extremely thick ice, has begun to respond to climate change. It is creeping backward down a slope that plunges into these extreme depths, new research finds, potentially igniting a feedback process that could ultimately unload trillions of tons of ice into the ocean.
"The configuration of the bed of the glacier makes this one of the weakest spots in east Antarctica," said Virginia Brancato, a NASA scientist who was the lead author of the new study in Geophysical Research Letters. "If I have to look at East Antarctica as a whole, this is the most vulnerable spot in the area."
So far, scientific attention has been mostly trained on the West Antarctic ice sheet. That's because several glaciers in West Antarctica — most of all, the enormous Thwaites glacier, the subject of a multimillion dollar international research mission — have been losing ice rapidly as they are undercut by warm ocean water.
But East Antarctica has the potential to release more ice, and some of its glaciers may be vulnerable to the same process affecting the glaciers in West Antarctica, which scientists refer to as "marine ice sheet instability."
"The ice reservoir in East Antarctica is nine times that of the West Antarctic ice sheet," said Helen Amanda Fricker, a glaciologist at the Scripps Institution of Oceanography who was not involved in the current study, but reviewed it for The Washington Post. "So when its contribution kicks in, it will be noticeable in future sea level rise."
...
Denman already has lost over 250 billion tons of ice, researchers have calculated, equivalent to a little over half a millimeter of sea level rise. But there are 540 trillion tons of ice loss potential if the glacier were to travel backward across the entire subterranean canyon — a distance of nearly 100 miles. At this point, the melting could then reach a critical area of Antarctica called the Aurora Subglacial Basin.
Here, enormous volumes of ice rest on a bed well below sea level. If the ocean gets into the Aurora Basin due to the loss of Denman glacier, there is the potential for nearly five feet of sea level rise.