Sea Ice Extent Is Near Record Lows--South as Well as North
,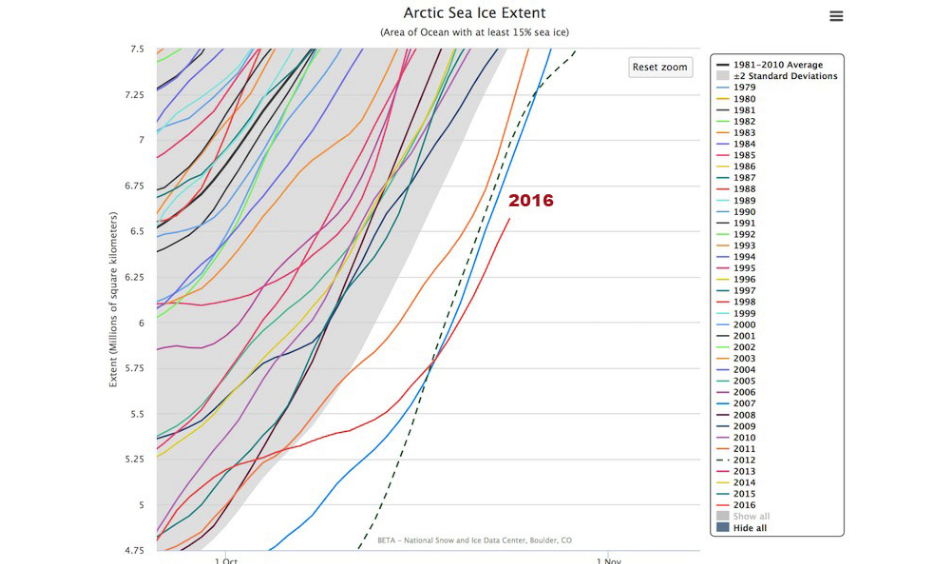 It's been a banner year for global sea ice, and not in a good way. After a record-smashing mild winter, the Arctic's summer sea-ice melt culminated in a tie with 2007 for the second-lowest extent since satellite measurements began in 1979. The drama intensified this month, with Arctic sea ice extent now at a clear record low for late October as calculated by the National Snow and Ice Data Center. This behavior isn't really such a shock, given that Arctic sea ice has been declining for decades in the midst of sharp high-latitude warming. What's more startling is the huge extent loss this year in the Antarctic, where sea ice extent had actually been increasing in recent years. This year's Antarctic extent peaked very early, on August 31, and it's now at its second-lowest value on record for late October, beaten only by 1986.
Together, these simultaneous drops have sent global sea ice extent--Arctic plus Antarctic--to its lowest level by far for this time of year since regular satellite monitoring began in 1979. The global extent as of October 25 was more than 1 million square kilometers below this date in 2011, the previous record-holder. In fact, it appears that the last few days are the first time we've seen a global departure from average in sea ice extent of more than 3 million sq km—which is more than four times the area occupied by Texas.
We shouldn't pin too much on this record, because global sea ice extent is a much-abused and somewhat artificial metric. The Arctic and Antarctic have vastly different climate regimes, and what happens at one pole is far more important to its own regional climate than what's occurring at the other pole. Still, the dramatic dip in global ice extent is worth noting if only because climate-change skeptics and deniers have pointed to global sea ice for years, and especially the Antarctic's unexpected evolution, in an attempt to discount other evidence of a planet being warmed by increasing amounts of human-produced greenhouse gases. As Jeff Masters put it in this blog in 2010: "Diminishing the importance of Arctic sea ice loss by calling attention to Antarctic sea ice gain is like telling someone to ignore the fire smoldering in their attic, and instead go appreciate the coolness of the basement, because there is no fire there."