September 2017 Was the Most Active Month on Record for Atlantic Hurricanes
,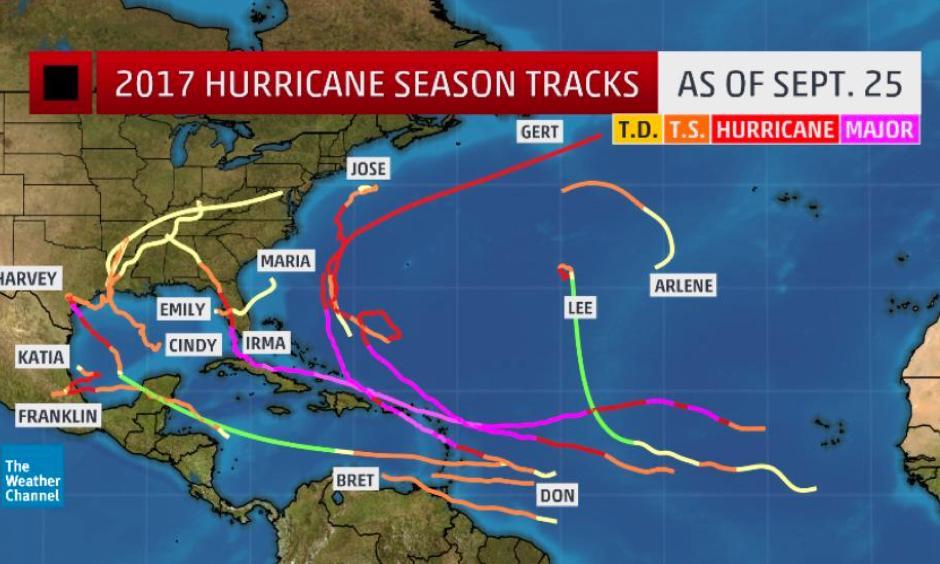 September 2017, with Category 5 hurricanes Irma and Maria and Category 4 Hurricane Jose, has been the most active month of any Atlantic hurricane season on record.
Though not necessarily indicative of impact, a good way to rank the most extreme months of a hurricane season is using a parameter called the ACE (Accumulated Cyclone Energy) index, calculated by adding each tropical storm or hurricane's wind speed through its life cycle.
Long-lived, intense hurricanes have a high ACE index, while short-lived, weak tropical storms have a low value. The ACE of a month is the sum of the ACE for each storm and takes into account the number, strength and duration of all the tropical storms and hurricanes in the month.
As of 11 a.m. Monday morning, September had generated more ACE than any other calendar month on record, according to Colorado State tropical meteorologist Dr. Phil Klotzbach.
Included in this month's ACE are Irma, Jose, Katia, Lee and Maria. All of those except Katia were long-lived hurricanes, and Lee and Katia were the only ones to not reach Category 4 or Category 5 intensity at their peaks.
For comparison, the most active month during the notorious 2005 Atlantic hurricane season was also September, but the ACE value that month only registered at 68.205, not even half of this September's total.