Slow Motion Disaster: North Carolina Still Dealing With Historic River Flooding
Elizabethtown, NC
Smithfield, NC
Kinston, NC
Tarboro, NC
Goldsboro, NC
Jacksonville, NC
Charleston, NC
,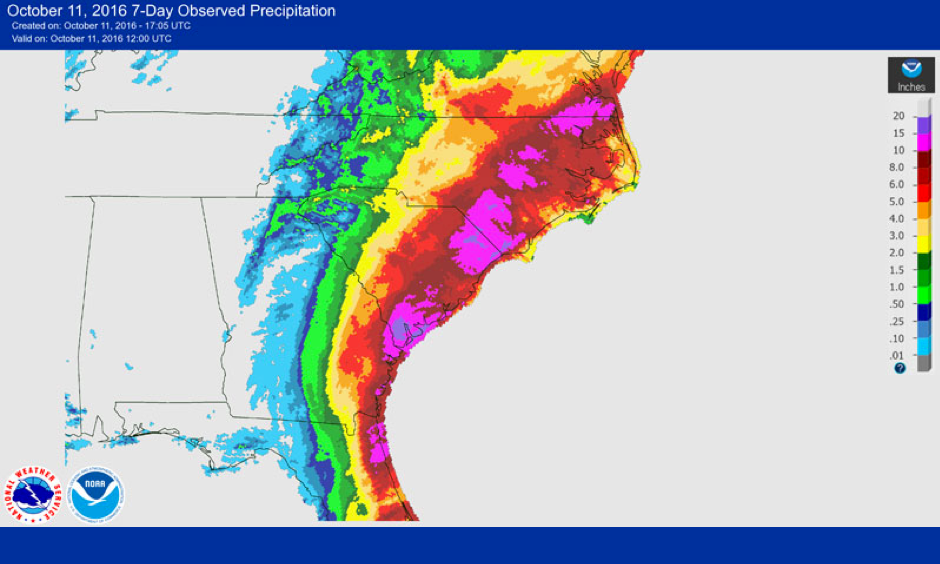 As the cleanup from Hurricane Matthew progresses elsewhere, the rivers of eastern North Carolina continue to go through a historic flood brought on by the hurricane's torrential rains. In many locations, the water is higher than in the aftermath of Hurricane Floyd in 1999, the previous high water mark on record for many locations.
...
A massive area was deluged with more than 10 inches of rain as Matthew went by. According to WeatherBell's Ryan Maue, 13.6 trillion gallons of water fell across the region, an amount the Washington Post equates to 75 percent of the Chesapeake Bay.
The highest rainfall total verified by the National Weather Service came at Elizabethtown, about 50 miles northwest of Wilmington, where 18.38 inches fell.
The Neuse River in Smithfield crested at 14 feet above flood stage on Monday, setting a new record. The river level downstream at Goldboro also set a new record, cresting at just over 11 feet above flood stage and nearly a foot above the previous record in 1999.
Farther downstream in Kinston, the Neuse is also expected to reach a record crest on Friday, 14 feet above flood stage. Floodwaters are expected to persist into next week.
The Tar River in the city of Tarboro crested Wednesday at 17 feet above flood stage, a few feet shy of the crest from Floyd in 1999. The river is projected to crest in Greenville at 12 feet above flood stage late Thursday night.
...
In addition to the numerous rainfall records with Matthew, precipitable water is another striking measure of the storm's soggy nature.
Precipitable water is a measure of the total water content of the atmosphere over a given point. Record high values for precipitable water were set in Jacksonville and Charleston.
Charleston set its record on Saturday at 2 a.m., when the National Weather Service measured 2.93 inches of precipitable water. In other words, if you instantly took all of the water vapor in the atmosphere directly over Charleston and turned it into rain, it would pile up to 2.93 inches of water on the ground. That's more than double the average of 1.25 inches for this time of year and shattered the previous record of 2.7 inches set in in 2010.
Increasing atmospheric humidity is an indicator of climate change. As the atmosphere warms, the amount of evaporation increases. In turn, this means there is more water in the atmosphere available in a storm to fall as rain (or snow in the winter). While it is too soon to directly attribute this particular aspect of Matthew to climate change, it is in line with the larger trend of more extreme rainfall events.
...
Warm ocean water is the primary fuel for hurricanes. There are other atmospheric players, such as the upper atmospheric wind speed, that also govern how strong a hurricane can get, but the energy comes from the water below. And water in the tropical Atlantic has been getting warmer in large part due to climate change.
With that in mind, Phil Klotzbach, a hurricane researcher at Colorado State University, made several points about Matthew. Two were telling:
Matthew went from a Category 1 to Category 5 hurricane in 24 hours. That was the third fastest rapid intensification in the Atlantic on record. The other two also happened since 2000 (Wilma 2005, Felix 2007)

Matthew remained a Category 4-5 hurricane for 102 consecutive hours. That was the longest any Atlantic hurricane has maintained that intensity during the month of October.