For some in Florida Panhandle, voting takes back seat to hurricane hardships



 United States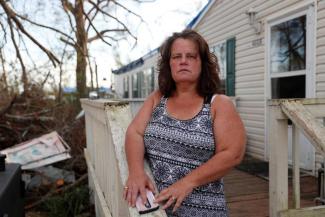 Sissy Karr, a landlady with 14 rental properties around Panama City, Florida, is a loyal Republican who voted for Donald Trump for president in 2016. But she says she is too busy cleaning up from Hurricane Michael to vote in Tuesday's elections.
Many of her rental units remain badly damaged from the storm, which struck less than a month ago with roof-ripping force, leaving Karr, 55, and countless others like her with a seemingly insurmountable amount of work to do.
"My list today was just endless. We've got rain coming in the next four days, and I've got tarps on houses," she told Reuters. "Are you kidding? I can't imagine taking the time to go vote."
...
Especially hard hit were Bay and Gulf counties, where officials have opened eight large voting centers in place of dozens of precinct-by-precinct local polling places damaged or destroyed in the storm.