Publication Date June 9, 2019

South Texas Heat Wave Sets June Record, Pushes Heat Index to 128 Degrees



 United States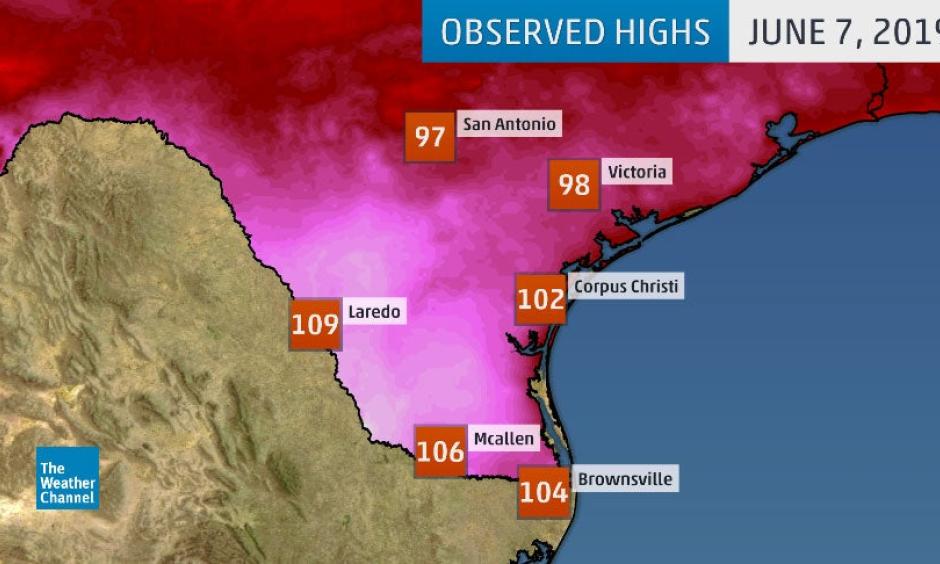 South Texas is searing in an oppressive heat wave that is sending temperatures into the triple digits, already topping one all-time June record and pushing heat indices above 120 degrees in some locations.
Brownsville, Texas – in the lower Rio Grande Valley along the border with Mexico, just west of South Padre Island – soared to 104 degrees, its hottest June high temperature in records dating to 1878, topping the previous June record of 103 degrees on June 26, 2012, and June 19, 1918.
A breeze from the Gulf of Mexico only made the heat worse. It wasn't a dry heat.
The combination of stifling heat and dew points near 80 degrees produced unofficial heat indices up to 128 degrees Friday, the National Weather Service in Brownsville tweeted.
This dangerous combination of heat and oppressive humidity prompted the NWS to issue excessive heat warnings from Corpus Christi to the lower Rio Grande Valley, an area typically used to triple-digit heat.
The heat indices above 120 degrees even busted above the color table on a map the NWS tweeted Friday.