Survey photos reveal damage of this year's global coral bleaching event



 United States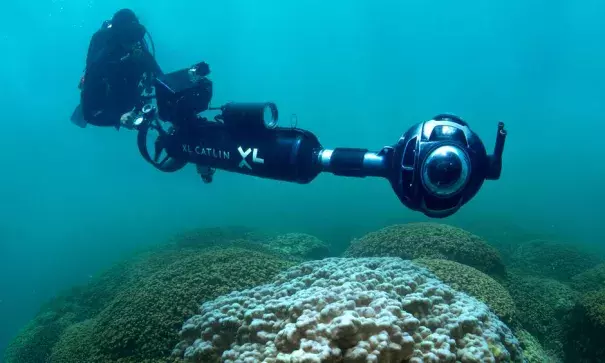 NOAA announced yesterday that a global coral bleaching event is underway. Bleaching due to heat stress is expected to impact approximately 38 percent of the world's coral reefs—and almost 95% of those in U.S. waters—and kill coral covering more than 12,000 square kilometers of reefs around the globe. This year's event is only the third-ever worldwide bleaching event in recorded history, following devastating events in 2010 and 1998.
For a global bleaching event to be declared, all three ocean basins need to have recorded bleaching—when corals expel their food-producing, symbiotic algae—across multiple reefs spanning 100 kilometers or more. After widespread bleaching events in the Indian and Pacific Ocean basins earlier in the year, ocean scientists and community-based monitoring teams at NOAA, XL Catlin Seaview Survey, the University of Queensland, and Reef Check verified that bleaching is now occuring from Florida and Cuba east to the Dominican Republic.
...
Coral bleaching hit a surprising intensity in 2014, long before the strong El Niño was officially underway. An outbreak of coral bleaching in the northern Pacific and the Caribbean Sea occurred in the late summer/fall. In addition to impacts across many of the Pacific islands, the main Hawaiian Islands experienced their worst bleaching on record, and a record level of heat stress was observed in the northwestern Hawaiian Islands. This was only the second documented bleaching occurrence in Hawaii's history. The reefs of the Florida Keys also experienced their worst bleaching impacts since 1998.
Bleaching then expanded to the South Pacific and Indian Oceans in 2015. Many island nations in the South Pacific reported impacts during the region's peak bleaching season from January through March. The XL Catlin Seaview Survey responded to a NOAA coral bleaching alert in February 2015 in American Samoa to document the impacts of bleaching.