Sweltering heat wave brings record-breaking temperatures to the northeastern US



 United States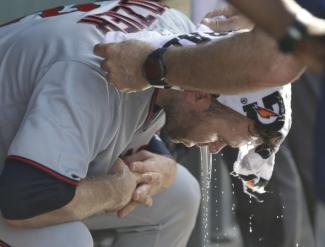 A heat wave roasted the northeastern United States this weekend with temperatures that felt like the triple digits.
"While this has not been the most extreme heat with the vast majority of locations falling just shy of record temps, anytime we get temperatures this high with increased humidity, we should be aware of how hard our bodies work to keep us cool," said AccuWeather Meteorologist Randy Adkins.
Record-challenging temperatures were felt across a majority of the Northeast on Sunday, including several bigger cities.
Allentown, Pennsylvania, was one of the hottest spots in the region, where the temperature reached a blistering 98 degrees Fahrenheit with a maximum AccuWeather RealFeel® Temperature of 105 F.
Burlington, Vermont, topped out at 96 F with an AccuWeather RealFeel® Temperature of 107 F; while Binghamton, New York, reached 90 F with a maximum AccuWeather RealFeel® Temperature of 100 F.
Although New York City did not set a record high temperature, the AccuWeather RealFeel® Temperature remained over 100 F for over six hours.