Tara, Vicente and Willa Have Made 2018 the Most Active Eastern Pacific Hurricane Season on Record
,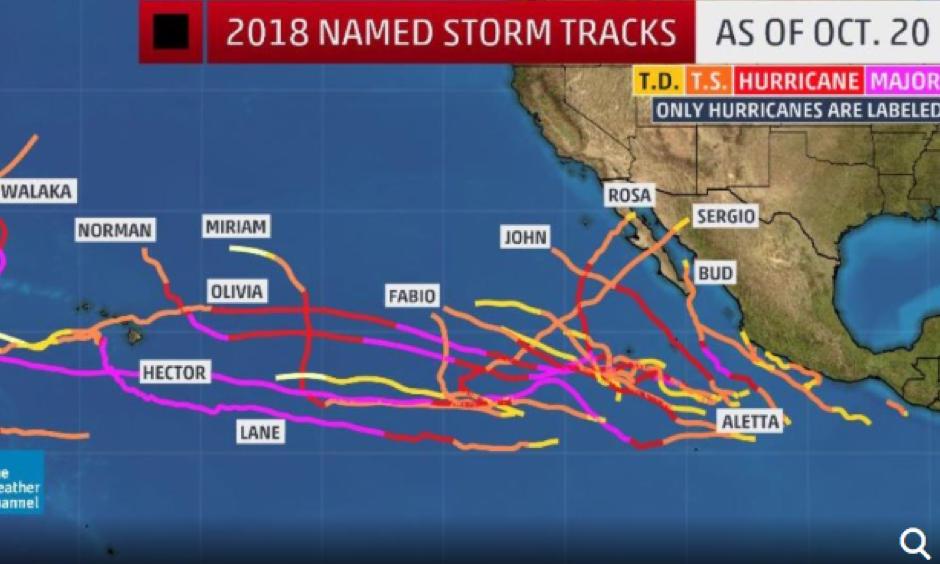 The 2018 Eastern Pacific hurricane season is the most active on record, according to one metric used to track hurricane activity, boosted by what was once Tropical Storm Tara and now tropical storms Vicente and Willa.
As of Oct. 20, there have been 22 named storms, 12 of which became hurricanes and nine of which were major hurricanes – at least Category 3 intensity – in the Eastern Pacific Basin from the International Date Line to Mexico's Pacific coast in 2018.
...
According to data compiled by Colorado State University tropical scientist Dr. Phil Klotzbach, the 2018 season was the most-active Eastern Pacific season on record as of Oct. 20 in reliable records dating to 1971, using this ACE index.
This 2018 ACE total, 295.5 as of Oct. 20, was more than double the average ACE of an entire season (121), according to Klotzbach's statistics.
...
Why So Active?
One reason for the elevated activity can be found in water temperatures.
Since the start of hurricane season, sea-surface temperatures have generally been above average from off Mexico's Pacific coast to an area near the International Date Line.
All other factors equal, warmer water will support more intense tropical cyclones for longer periods of time.