Temperatures leap 40 degrees above normal as the Arctic Ocean and Greenland ice sheet see record June melting



 Greenland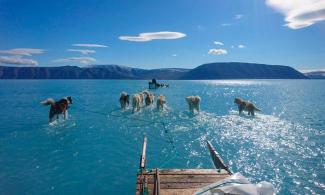 Ice is melting in unprecedented ways as summer approaches in the Arctic. In recent days, observations have revealed a record-challenging melt event over the Greenland ice sheet, while the extent of ice over the Arctic Ocean has never been this low in mid-June during the age of weather satellites.
Greenland saw temperatures soar up to 40 degrees above normal Wednesday, while open water exists in places north of Alaska where it seldom, if ever, has in recent times.
It's "another series of extreme events consistent with the long-term trend of a warming, changing Arctic," said Zachary Labe, a climate researcher at the University of California at Irvine.
...
Data from the National Snow and Ice Data Center show that the Greenland ice sheet appears to have witnessed its biggest melt event so early in the season on record this week (although a few other years showed similar mid-June melting).
"The melting is big and early," said Jason Box, an ice climatologist at the Geological Survey of Denmark and Greenland.
Box explained that temperatures over the western Greenland ice sheet have been abnormally high while snow has been well below normal.
Marco Tedesco, an ice researcher at Columbia University, added that it has been unusually warm in east and central Greenland, as well. "This has triggered widespread melting that has reached about 45 percent of the ice sheet," he wrote in an email.
Normally, melting this widespread over the ice sheet doesn't occur until midsummer, if even then.