'Thousand-year' downpour led to deadly West Virginia floods
Maxwelton, WV
White Sulphur Springs, WV
,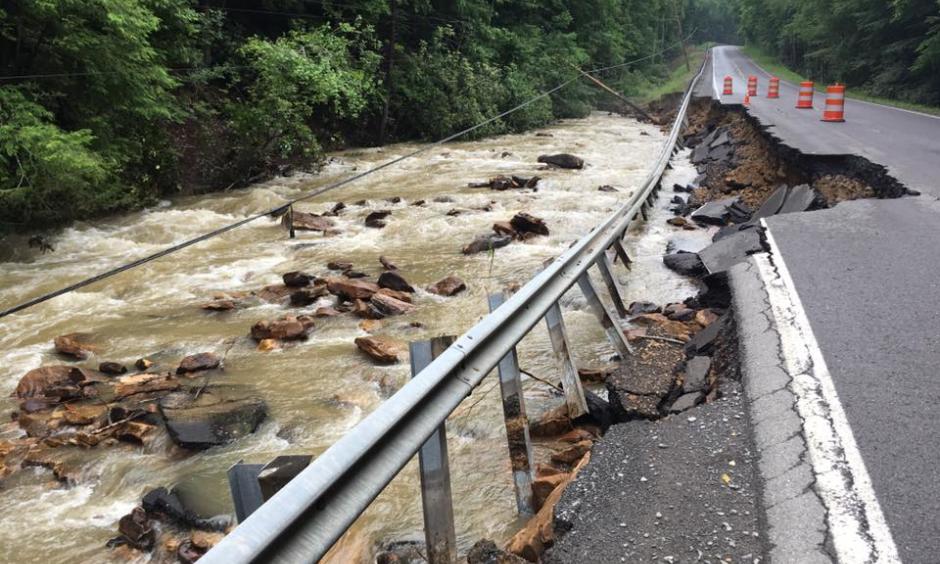 Rainfall totals were staggering. In Greenbrier County, West Virginia, Maxwelton received 9.67 inches of rain in the 36 hours leading up to June 24. White Sulphur Springs observed 8.29 inches in 24 hours, doubling the previous record for wettest day (4 inches, set in 1890).
...
National Weather Service radars estimated more than 10 inches in localized parts of Greenbrier County. To the west, in Alleghany County, Virginia, more than 5.5 inches of rain fell near Covington. Much of the rain fell in just 12 hours.
...
Based on the fixed "day" used by forecasters, the National Weather Service said that 24-hour rainfall amounts in parts of Fayette, Nicholas, and Greenbrier Counties were a "thousand-year event," meaning there is only a 0.1% chance of an event of this magnitude happening in any given year... An analysis by a meteorologist with the Charleston, WV, forecast office, based on the 24-hour period spanning the event, indicated that thousand-year 24-hour rainfall totals were also likely exceeded in parts of Kanawha, Roane, and Clay counties.
...
The Elk River at Queens Shoals, West Virginia, rose to over 33 feet, breaking the previous high water record set in 1888. Record or near-record crests also occurred at stations on the Gauley, Meadow, Cranberry, Greenbrier, and New Rivers.
...
The storms formed in an area of large temperature contrast along the northern edge of the same strong ridge of high pressure ("heat-dome") that was responsible for the stiflingly hot temperatures across the U.S. Southwest. The storms then hitched a ride east along the jet stream—the area of strong winds high in the atmosphere that serves as a "storm highway"—wringing out the moist atmosphere as it went, unleashing round after round of thunderstorms and resulting in the historic rainfall totals observed in West Virginia.
...
For mountainous regions like West Virginia, increases in extreme precipitation also mean a greater flood risk, especially in valleys where water collects