Top Ten Global Weather/Climate Events of 2017: A Year of Landfalls and Firestorms



 United States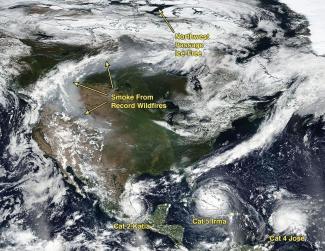 In 2017, the atmosphere seemed to have it in for the United States. Globally, the lion's share of destruction from each of the world's four costliest weather-related disasters occurred within U.S. states and territories, and each one involved either hurricanes or wildfires. Through September, NOAA tallied 15 U.S weather disasters in 2017 with a cost of at least $1 billion, and the December wildfires in Southern California may well add another billion-dollar disaster to the total. This would tie 2017 with 2011 for the most billion-dollar weather disasters in any year in U.S. history.
Granted, the U.S. is a meteorological crossroads that's renowned for getting virtually every type of meteorological mayhem, but it's unusual for the nation to have such a lopsided share of the global toll from a year's worth of weather/climate disasters. One preliminary damage assessment put the U.S. damage from Maria, Harvey, and Irma at $207 billion, with another $25 billion in non-U.S. damage. Thus, our picks below for the planet's highest-impact weather and climate events of 2017 are very U.S.-centric.
Three events tied for #1 in 2017: Hurricanes Harvey, Irma, and Maria
The most hellacious series of Atlantic hurricanes since 2005 produced catastrophic damage in a number of Caribbean nations as well as Puerto Rico, the U.S. Virgin Islands, and the U.S. mainland. One reason: at the peak of hurricane season, sea-surface temperatures were at near-record warm levels across most of the tropical Atlantic. Moreover, upper-level winds (with an assist from La Niña) were unusually supportive for allowing hurricanes to thrive (bringing low wind shear), and steering currents favored trajectories toward land, with a grand total of 23 landfalls for the year. The period from late August to early October saw a nearly unbroken string of Atlantic hurricanes in progress, and September produced the largest amount of accumulated cyclone energy (ACE) of any month on record.