Tropical Cyclone Donna becomes Category 5 storm, worst May storm on record in South Pacific



 New Caledonia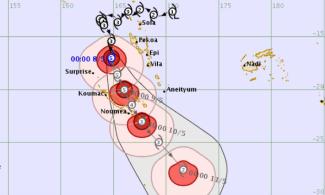 Cyclone Donna is now the worst-ever tropical storm to hit the South Pacific in May after reaching Category 5 this morning.
Weatherwatch.co.nz said according to CNN's Severe Weather Team Donna now had sustained winds of 215km/h gusting up to a ferocious 260km/h, making it the strongest May cyclone ever recorded in the Southern Hemisphere.
It eclipses Tropical Cyclone Nadu which struck in 1986.
New Caledonia is next in Donna's firing line as the vicious storm heads south but it's still not clear if it will bring havoc to our shores.
The Fiji MetService is yet to officially confirm any change in storm category. New Zealand's MetService says the Fijian weather agency is responsible for the cyclone and there is no expectation the storm will be upgraded in the its next update due around 1pm.