Tropical Storm Jose Bringing Coastal Flooding, Rain, Wind to Parts of Northeast; Tropical Storm Warning for Southeast Massachusetts
,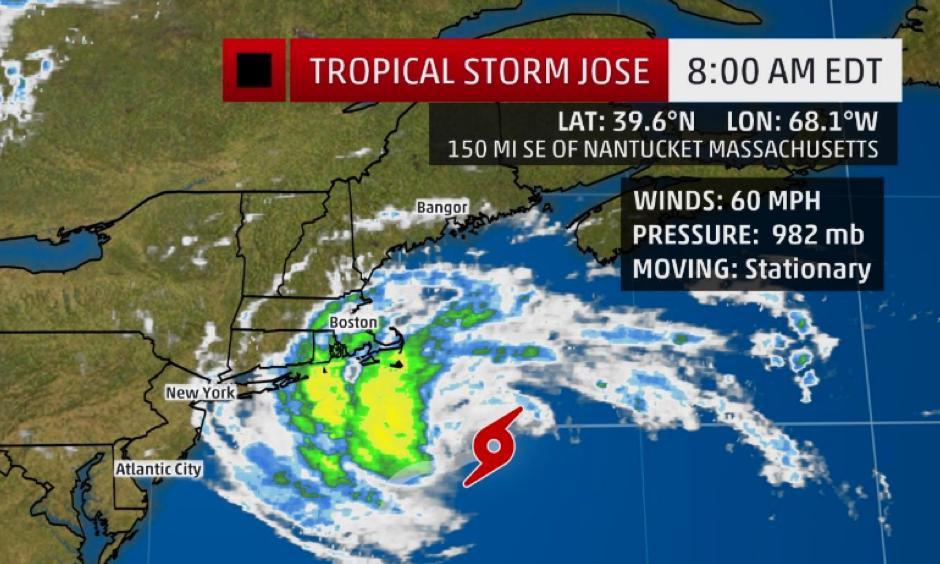 Tropical Storm Jose will remain well off the East Coast of the United States but will still produce a combination of coastal flooding, high surf, tropical-storm-force winds and rainfall, particularly in far southeastern New England.
Tropical storm warnings continue for parts of coastal southeast Massachusetts, from Woods Hole to Sagamore Beach, including Cape Cod, Block Island, Martha's Vineyard and Nantucket.
Tropical-storm-force winds are expected in the warning area through Thursday.
Jose's center is currently located about 150 miles southeast of Nantucket, Massachusetts, and is currently stationary.
Tropical-storm-force winds extend outward up to 230 miles from Jose's center, making it a large tropical cyclone. Nantucket reported a wind gust of 48 mph and a gust to 52 mph was measured on Martha's Vineyard Thursday morning.
Block Island, Rhode Island, reported sustained winds of 41 mph late Wednesday morning, and trees have been downed in numerous locations across eastern Massachusetts.
...
Jose is expected to produce additional rainfall amounts of 1 to 2 inches through Friday over Cape Cod and Martha's Vineyard. Locally higher rainfall totals of 2 to 4 inches are possible on Nantucket.
In addition, large swells from Jose will continue to affect the Eastern Seaboard during the next several days. This will contribute to life-threatening rip currents in some locations.
Coastal flooding is also likely through late week along southeast New England's shorelines with the potential for significant beach erosion, given the high astronomical tides and multiple tide cycles with coastal flooding. Additional coastal flooding is possible elsewhere along the Northeast coast over the next several days.