Two Unusual Tropical Cyclones Affect Australia and New Zealand



 New Zealand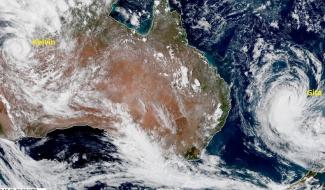 On Monday local time, Gita generated swells of 14-16 feet along the Gold Coast of east central Australia, closing all of the region's famed beaches.
...
As of 12Z Monday, Gita was traversing sea surface temperatures (SSTs) around 25°C (77°F)—normally too cool to sustain tropical development—and was experiencing fierce wind shear of greater than 40 knots. A strong outflow channel at upper levels has kept Gita going as a tropical cyclone despite these negative factors. Even cooler waters and stronger shear lie ahead, though, heralding a rapid transition to post-tropical status over the next 24 hours.
...
Tropical Cyclone Kelvin hits Australia, then intensifies over land
An unusual meteorological event played out in northwest Australia over the weekend, when Category 1 Tropical Cyclone Kelvin made landfall then intensified after landfall. Visible and infrared satellite loops showed that the eye grew more distinct for a few hours after landfall, and the eyewall clouds surrounding the eye expanded in areal coverage. Radar loops also showed an increased in the storm's organization after landfall, with the low-level spiral bands becoming more organized. According to the Joint Typhoon Warning Center, Kelvin reached its peak intensity of 90 mph when the storm was centered about ten miles inland at 0Z Sunday, February 18. The storm then began to rapidly weaken about three hours later, as it pushed farther inland. Kelvin was rapidly intensifying as it approached landfall, but nevertheless, we normally expect tropical cyclones to quickly weaken once their center moves over land. This occurs because the storm is then cut off from the source of heat and moisture that powers it—the warm ocean waters.
Actually, it turns out that Kelvin's behavior is not that unusual over northern Australia, and there have been a number of tropical cyclones that have intensified over land in this part of the world. A 2008 paper published in Monthly Weather Review by hurricane scientists Kerry Emanuel, Jeff Callaghan, and Peter Otto, A Hypothesis for the Redevelopment of Warm-Core Cyclones over Northern Australia, studied the issue using a simple tropical cyclone model coupled to a one-dimensional soil model, and came up with a plausible theory for these storms, which they dubbed "agukabams". Northern Australia has a deep layer of very hot, sandy soil, and when this soil is wetted by the first rains of an approaching cyclone, the land provides a ready source of heat and moisture to the landfalling storm, allowing it to intensify for a few hours. The computer simulations showed that once the storms get sufficiently isolated from their oceanic source of moisture, the rainfall they produce is insufficient to keep the soil wet enough to transfer significant quantities of heat, and the storms then decay rapidly.