Typhoon Nepartak kills two in Taiwan, barrels toward eastern China
Taitung City, Taitung County
,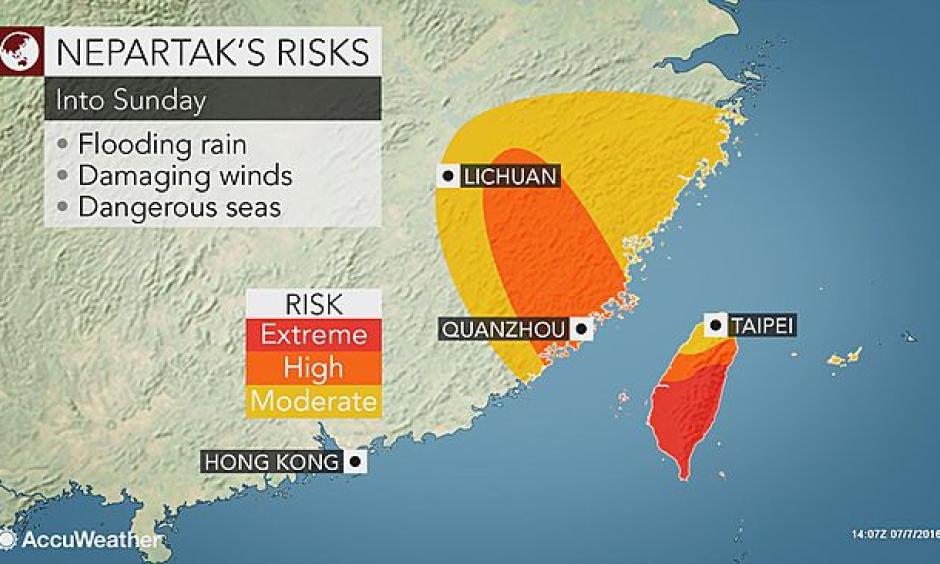 Nepartak made landfall about 5 miles southwest of Taitung City, Taiwan, shortly before 7 a.m. local time Friday, with estimated winds around 201 km/h (125 mph).
At least 2 people died and dozens more were injured in Taiwan after Nepartak made landfall...
The southwestern communities of Taiwan from Kaohsiung City to Tainan City to Chiayi City will face damaging wind gusts of 110-160 km/h (70-100 mph) prior to Nepartak's departure. Rainfall in these areas will total 150-300 mm (6-12 inches) into Saturday...
Heavy rain and strong winds will then spread along the eastern China coastal plain on Friday afternoon and into Saturday as Nepartak makes its second and final landfall.
Nepartak is expected to move inland in the vicinity of Xiamen and Quanzhou as a minimal typhoon on Friday night.
The worst impacts in eastern China will be in Fujian Province