U.S. Faces Dramatic Rise in Extreme Heat, Humidity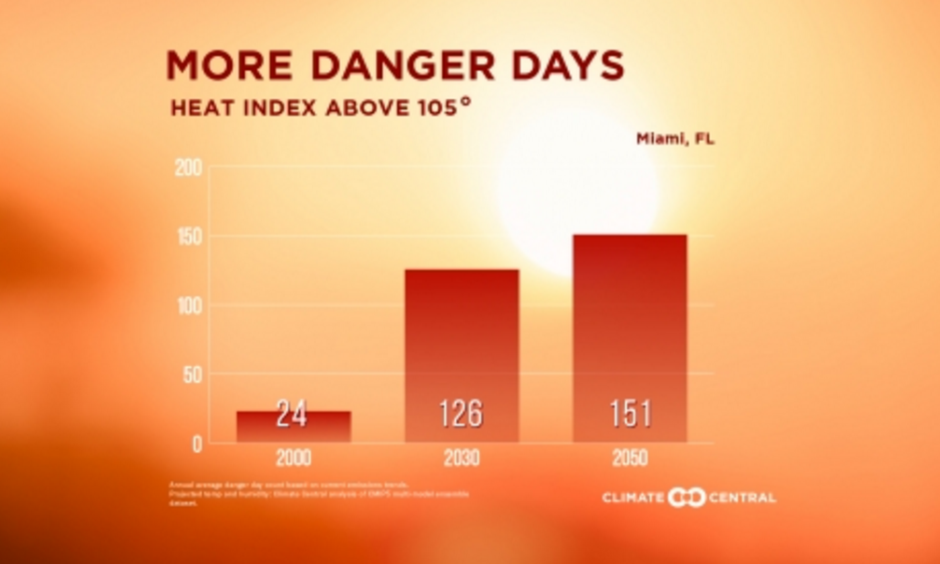 Heat is the No.1 weather related killer, and as carbon pollution continues, global temperatures will keep climbing, bringing hotter summers and more extreme and dangerous heat.
Climate Central's States at Risk project analyzed historic trends in summer temperatures since 1970 as well as projections for future extreme heat for hundreds of metro areas across the lower 48 states. Using several measures, our findings show that most U.S. cities have already experienced large increases in extreme summer heat and absolute humidity, which together can cause serious heat-related health problems.
...
Florida faces by far the greatest increase in the dangerous combination of heat and humidity over the next several decades. The 13 metro areas in the U.S. projected to see the greatest increase in danger days by 2050, are all in Florida. Every one of these cities is projected to see an increase of more than 100 dangerous heat days, when the heat index -- a combination of heat and humidity is more than 104oF -- by that time. This will only accelerate changes already seen in Florida, where Miami tops the nation with the greatest increase in annual average 90oF days per year since 1970 with 46 more such days. McAllen, Texas is second, with 26, followed by Tucson with 25.

Texas tops the nation in extreme heat, with 6 of the top 7 cities with the greatest increase in 95oF days, including Austin, San Antonio, and Corpus Christi. In addition, three Texas cities lead the nation in projected danger days by 2050. Nearly half the year, between 168 and 179 days, will be what the National Weather Service considers dangerous heat days by 2050 in McAllen, Laredo, and Brownsville-Harlingen.

Arizona is also hard hit, with Phoenix projected to see 146 danger days by 2050, Tucson expected to see 135, and Yuma projected to have 159. As a harbinger of these changes, Tucson now has 27 more days above 95oF on average per year than in the 1970s, the fifth largest increase in the nation