The U.S. is Poised to Set a Record-Setting Record
,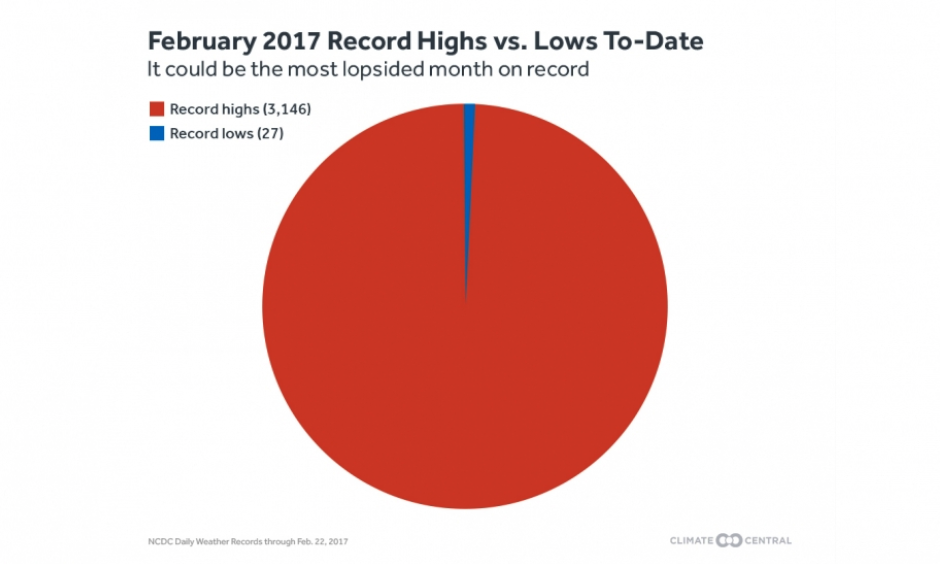 Unseasonable warmth has kickstarted spring up to a month early in the Southeast, cut into already paltry Great Lakes ice cover and created skiing conditions more reminiscent of April in the Northeast. But the most outstanding aspect of the persistent February warmth is what it has done to the ratio of record highs to record lows.
There have been 3,146 record highs set for the month-to-date compared to only 27 record lows, ensuring February will go down as the 27th month in a row with more highs than lows. The astonishing 116-to-1 ratio of highs to lows would easily set a record for the most lopsided monthly ratio in history. There have also been 248 monthly record highs and no monthly record lows.
"If the eventual ratio is above 50-to-1 this would be historic," Guy Walton, a meteorologist who tracks record temperatures, said.
The increasing ratio of record highs vs. record lows is one of the hallmarks of climate change. By raising the baseline temperature, climate change has made it more likely for record highs to be set while decreasing the odds of record lows. In a world that wasn't warming, that ratio would remain constant right around 1-to-1, but research has shown that hasn't been the case with highs outpacing lows more and more with each passing decade.