The U.S. set a new record for powerful wind gusts, with 55 in one day



 Central & Midwest US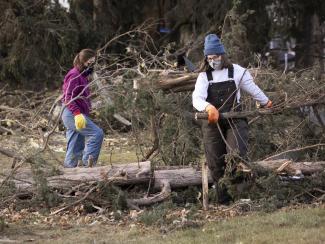 Climate Signals summary: A historic severe thunderstorm damaging wind event, know as a derecho, swept across the country Wednesday fueled, in part, by unusually warm temperatures. As the Earth continues to warm due to human-caused climate change, the amount of energy available to fuel thunderstorms will increase.
---
Article excerpt:
Howling winds tore across the central U.S. on Wednesday, setting a record for the highest number of hurricane-force thunderstorm wind gusts in a day since 2004, the National Weather Service says. At least 55 gusts surpassed the 74-mph threshold for hurricane winds.
"The previous record was from August 10, 2020 with 53," the NWS Storm Prediction Center said.
While it can be difficult to connect climate change to any particular storm, experts say that in general, air that's becoming warmer and more moist is providing more fuel for extreme weather, from hurricanes to intense inland storms.
University of Michigan climate scientist Jonathan Overpeck wrote recently that the trend means unusually strong storms could become more likely to strike in the cooler months, adding that they will hit regions farther north than has been the norm.
You can read the rest of this article here:
https://www.npr.org/2021/12/16/1064854932/wind-gusts-record-hurricane-force