Visualizing California's current fires, some of the deadliest and most destructive on record
,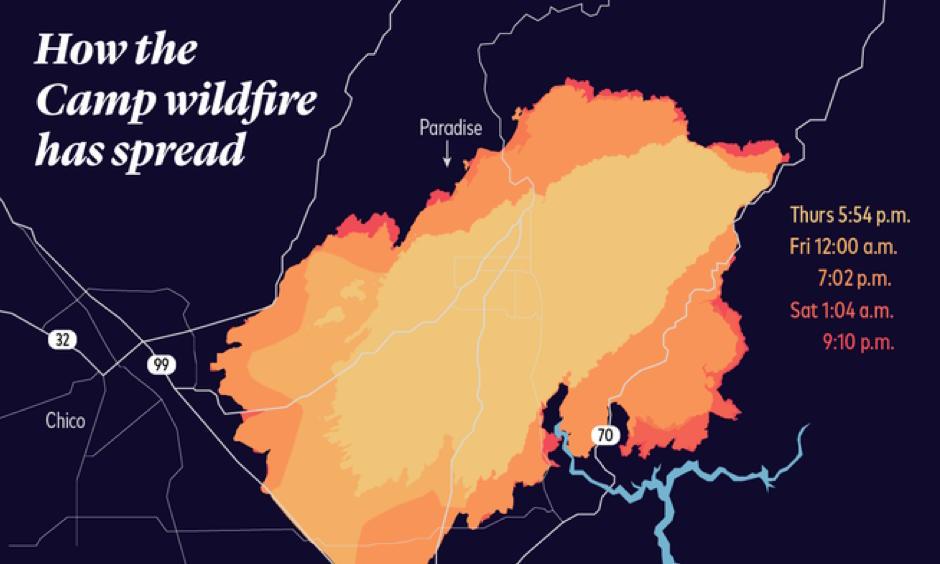 The Camp fire that engulfed the Northern California town of Paradise is already tied for the deadliest fire California has ever seen. Officials have confirmed 29 fatalities as of Monday morning, and with more than 200 people still unaccounted for, there could be more to come. The mayor of Paradise told the BBC that 90 percent of the town's residential area is destroyed, and indeed the fire is California's most destructive on record.
This and the two blazes outside of Los Angeles are being fueled by what is now an all-too-familiar combination of factors on the west coast: dry vegetation, low humidity, and high winds. Though they're not the largest in area that the state has seen, even in recent years, the images NASA is gathering from its satellites are astounding. The Camp fire has consumed 109,000 acres thus far, while the Woolsey and Hill fires have burned 83,000 and 4,530 acres respectively.
...
Wildfires are an increasingly common. Three of California's largest fires ever have happened in the last five years, and that's no coincidence. The west coast has superlative firefighting and, despite what President Trump recently claimed, excellent forest management. It's not a lack of preparedness that's making California so ready to burn—it's a warming planet and a burgeoning population.
One study of human-induced changes in wildfires found that the number of acres burned in western states has doubled since the 1980s, largely due to climate change. Couple that with mass movement—in 2017, a quarter of the state's people lived in moderate to high risk fire corridors—and you've got a recipe for destruction.