Warmer April high temps for the Boston Marathon
,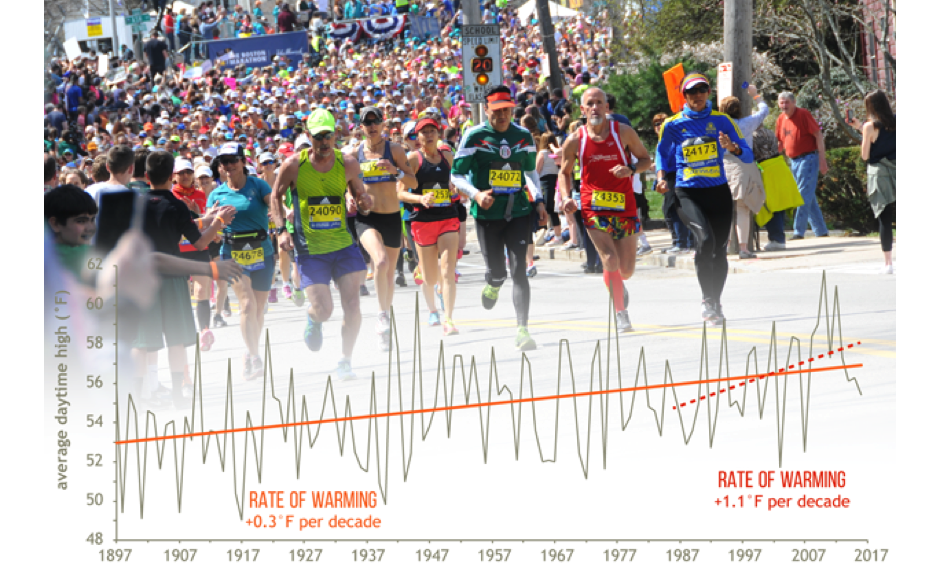 Archivist preface
One of the strongest findings of climate science is that global warming amplifies the intensity, duration and frequency of extreme heat..
Article excerpt
Ready, set, race! It's Marathon Monday in Boston, and the first of more than 30,000 participants in this year's race bolted off the starting line this morning. Runners today are more likely to face warmer temperatures than when the iconic race began in 1897.
The graph [above] shows the average maximum temperature (the daytime high) in April for Massachusetts Climate Division 3 (the division that includes Boston) from 1897 to 2016. The division has seen its average maximum temperature rise 0.3°F per decade since 1897. That's more than double the temperature rise recorded for the contiguous United States as a whole (0.12°F per decade).
Recent decades have warmed even more rapidly. In the last 30 years or so, the rate of warming more than tripled, ranging from 1.0° to 1.3°F per decade in the Boston area, depending on the exact start and end year you use to calculate the trend.