A weather geek's live blog: Hurricane Matthew surges towards U.S.
,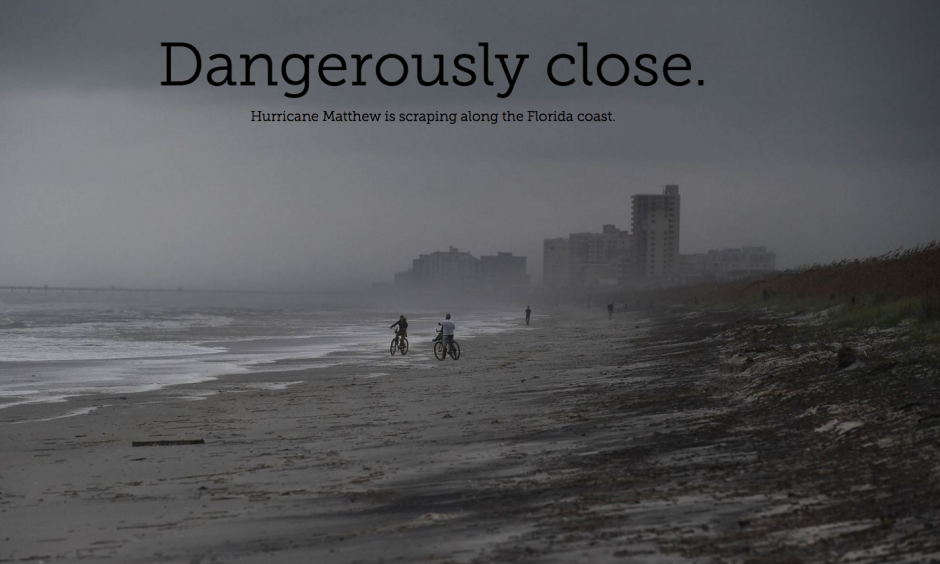 Nearly 1 million without power as surge builds at coast
Oct 7, 2016 12:33 PM EDT
Storm surge flooding is underway from Jacksonville, Florida south to Daytona Beach, with flooding soon to begin in southeastern Georgia as Hurricane Matthew moves up the eastern coast of Florida.
The storm's strong winds have knocked out power to nearly one million people across the Sunshine State.
Hurricane landfall now anticipated in South Carolina
Oct 7, 2016 11:02 AM EDT
Hurricane Matthew is anticipated to make a closer pass to the Georgia and South Carolina coastlines than earlier anticipated. In fact, it may hit Charleston, South Carolina head on as a Category 1 or 2 hurricane.

Charleston has not had a direct hit by a significants hurricane since 1989, and since that time, sea levels have risen considerably due to global warming-related sea level rise. This would make any surge from this storm more damaging than it might have been just a few decades ago.

The city is extremely vulnerable to storm surge flooding, so the path that Hurricane Matthew takes is crucial given that it would affect the severity of the surge. Right now, the NHC is predicting 4 to 6 feet of surge above high tide.
Storm surge flooding is underway in northeastern Florida as storm weakens slightly
Oct 7, 2016 10:58 AM EDT
The western part of the eyewall is blasting the coast near Daytona Beach.

More significantly, livecams and witness accounts show storm surge flooding is now taking place from Jacksonville to Daytona Beach. Jeff Goodell, a reporter for Rolling Stone, is reporting from St. Augustine, Florida