West Virginia in Shock after Flash Floods Kill At Least 23
,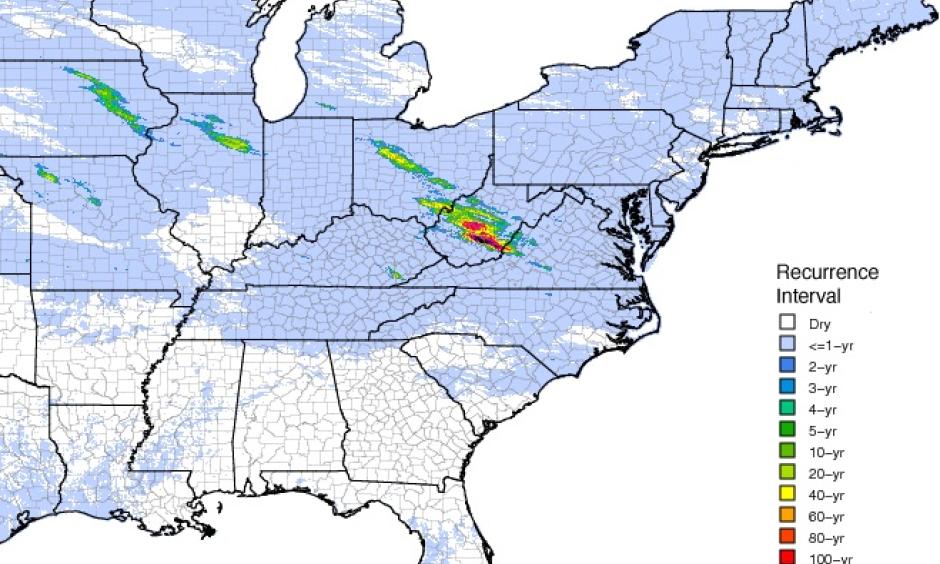 Climate change is making the heaviest one-day rains heavier
Rainfall totals for the 48-hour period spanning the flood event ranged as high as 9.65" in Greenbrier County. Most of that likely fell within just a few hours, according to the NWS/Charleston (WV) office.
...
Based on radar and other data, Tye Parbyzok (MetStat) estimates that the highest 24-hour rainfall amounts observed in West Virginia last week would be expected to recur less than once every 1000 years on average (see Figure 2). A growing body of research shows that the ever-increasing amount of greenhouse gas in the atmosphere is intensifying the heaviest rainfalls observed in many parts of the world, and models indicate this trend will continue. According to one study highlighted in the 2014 U.S. Climate Change Assessment, a two-day rainfall that might have occurred only once every five years in the early 20th century has become almost 40% more frequent since then, with the greatest increase in the Northeast, Midwest, and Upper Great Plains