Why the Louisiana Flood Happened, And 4 Other Things to Know
,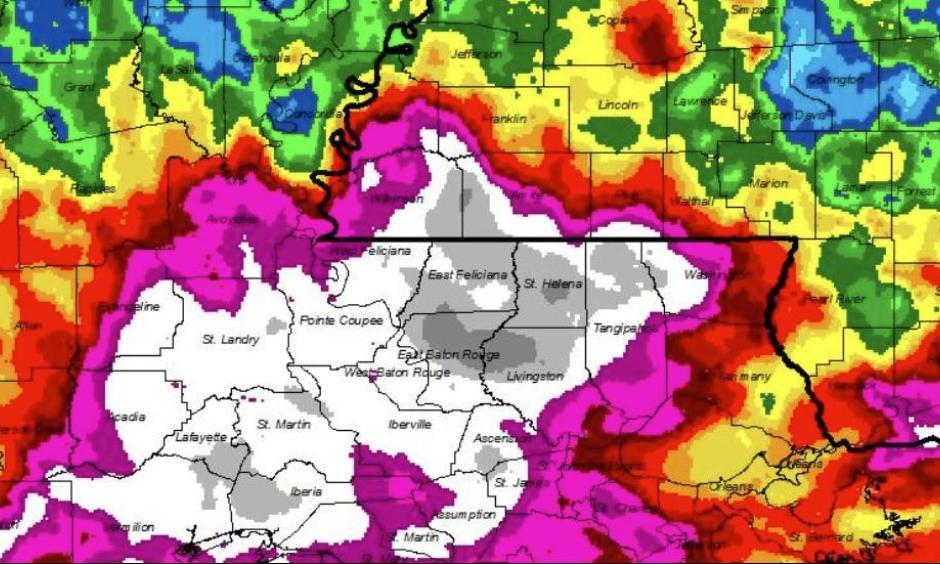 Parts of southeast Louisiana continue to deal with the floodwaters from the tremendous downpours that hit the area late last week.
Here is why the disastrous flooding occurred and four other things to know about the situation.
1.) Described as "Like an Inland Tropical Depression"
Deep, tropical moisture in combination with low pressure near the earth's surface and aloft were the main ingredients that fueled the serious flooding in Louisiana and adjacent parts of southwest Mississippi.
On Friday morning, NOAA's Weather Prediction Center said this when talking about the heavy rain event: "The best description of this system is that of an inland sheared tropical depression."
...
2.) River Records Shattered by 4 to 6+ Feet
More than a half dozen river gauges have set new record highs in southeast Louisiana, exceeding the previous record by several feet in some cases.
One of the most extreme of those was in Magnolia, Louisiana, where the Amite River crested at 58.56 feet. This topped the old record at that location by more than six feet set on April 23, 1977.
The Amite River in Denham Springs hit 4.7 feet above its previous record set in 1983 on Sunday morning. Records there date back to at least 1921, making this an impressive feat.
3.) More Rain Fell Than Los Angeles Has Seen in 3+ Years
Since the start of 2012, Los Angeles has seen a total of 29.18 inches of rain. In just a few days time, Watson, Louisiana, picked up two inches more than that amount with 31.39 inches of rain during the event.
Obviously, this is a bit of an apples to oranges comparison since Los Angeles has a drier climate than the Gulf Coast states, but still impressive. Los Angeles averages nearly 15 inches of rain annually while Baton Rouge, which is located near Watson, sees about 60 inches of rain each year.
The National Weather Service in Hanford, California, says the amount of rain that fell in parts of southeast Louisiana exceeds what Bakersfield, California, has seen in 5+ years.
Watson, Louisiana, also saw more rainfall during this event than what Omaha, Nebraska (31.10 inches), and Minneapolis-St. Paul (30.57 inches) average for an entire year.
4.) Second 24+ Inch Rain Event in Louisiana This Year
This is the second time in a matter of months that Louisiana has seen more than 24 inches of rain from a single event.
Almost 27 inches of rain fell south-southeast of Monroe, Louisiana, on March 8-11, 2016. The official airport reporting station in Monroe picked up 20.66 inches of rain.
Record flooding was observed on five river gauges in parts of the state, also topping the previous records by several feet.
5.) Flood Threat Not Over as Tropical Moisture Expands
The potential for heavy rain and flooding will continue the next few days as the tropical moisture expands northward from the Gulf Coast and interacts with a stalled frontal boundary