Will Cape Town Run Out of Water?



 South Africa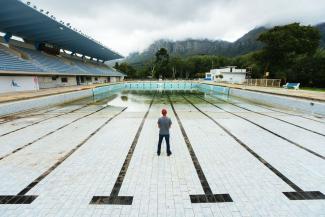 Cape Town, whose lush, stunning setting induced explorer Francis Drake in 1580 to call it "the most stately thing and the fairest cape we ever saw," risks running dry. The severity of the crisis, brought on by three years of poor rains and surging water demand, is highly unusual even at a time of climate extremes, said Bob Scholes, a professor of systems ecology at the University of Witwatersrand in Johannesburg.
"Running out of water in places that have a highly developed water infrastructure is not that common," he said. "I know of no example of a city the size of Cape Town running out of water. It would be quite catastrophic."
...
Three straight years of poor rains typically occur less than once in a millennium, according to University of Cape Town climatologists Piotr Wolski, Bruce Hewitson and Chris Jack. It's unclear what's caused such extreme drought, though climate change is a possible factor and the city should brace itself for a recurrence, they said in a study published Oct. 6.