Winter Storm Riley Undergoing Bombogenesis Into a Strong Nor'easter With Damaging Winds, Coastal Flooding, and Heavy, Wet Snow in the East
,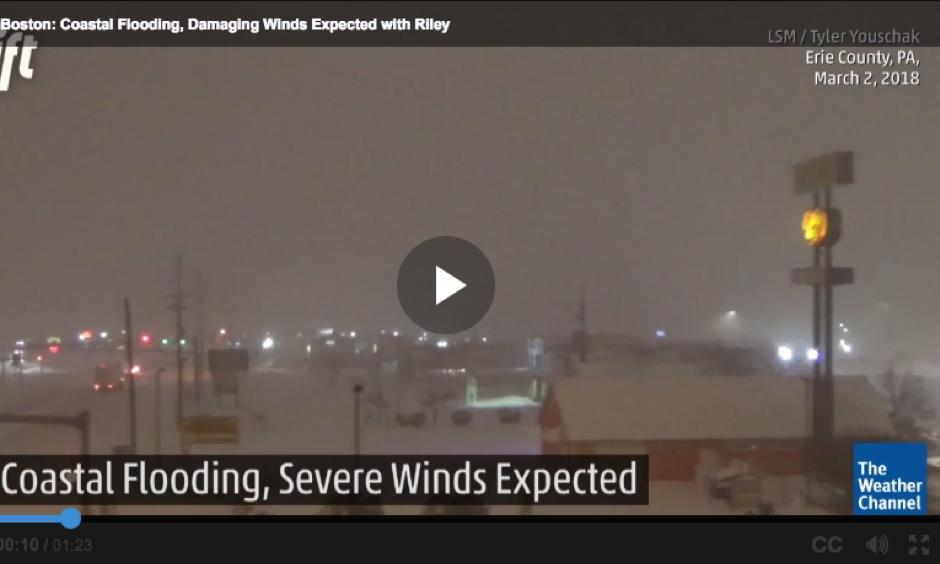 Winter Storm Riley is already clobbering the Northeast with damaging winds, heavy, wet snow, as a significant, long-lived, destructive coastal flooding event is just now underway as Riley becomes an intense nor'easter.
Low pressure just off the Jersey Shore is currently undergoing explosive development known as bombogenesis, defined by a rapid drop in atmospheric pressure of at least 24 millibars in a period of 24 hours or less.
Thanks to a recent split of the polar vortex and a subsequent westward-shifting blocking high-pressure system near Greenland, the weather pattern will be conducive for this nor'easter to move very slowly.
This will produce high winds over a sizable swath of the East, and coastal flooding will reach moderate or major severity over multiple high-tide cycles into the weekend.
Cold air is limited but sufficient to produce heavy, wet snow along the northern flank of the low-pressure system in the interior Northeast.
Heavy snow continues to blanket much of New York state, with the exception of the Lower Hudson Valley, northern and western Pennsylvania, parts of western New England and northeast Ohio.
The town of Forestville, New York, south of Buffalo near the Lake Erie shore, picked up a whopping 22 inches of snow in just 24 hours as of Friday morning. Thundersnow was observed in parts of western New York and northwest Pennsylvania Thursday night.
...
Other notable heavy snow totals as of Friday morning included 14 inches in Harborcreek, Pennsylvania, and Windham, New York, 12 inches near North East, Pennsylvania, 11.9 inches at Buffalo-Niagara International Airport, and 11 inches in Chardon, Ohio.
...
Winds gusted to 67 mph at Washington-Dulles and 62 mph at Reagan National Airport early Friday. A 74 mph gust was clocked atop Chickaree Summit, Pennsylvania.
Gusts over 50 mph are already buffeting Boston-Logan Airport, and trees have been downed in Arlington, Burlington, Easton, North Andover, Sharon and Woburn. Trees have also been downed in parts of Pennsylvania, Ohio, Maryland, Virginia and western North Carolina.