Infographic: The U.S. Military Is Experiencing More Cases Of Illness From Extreme Heat



by Forbes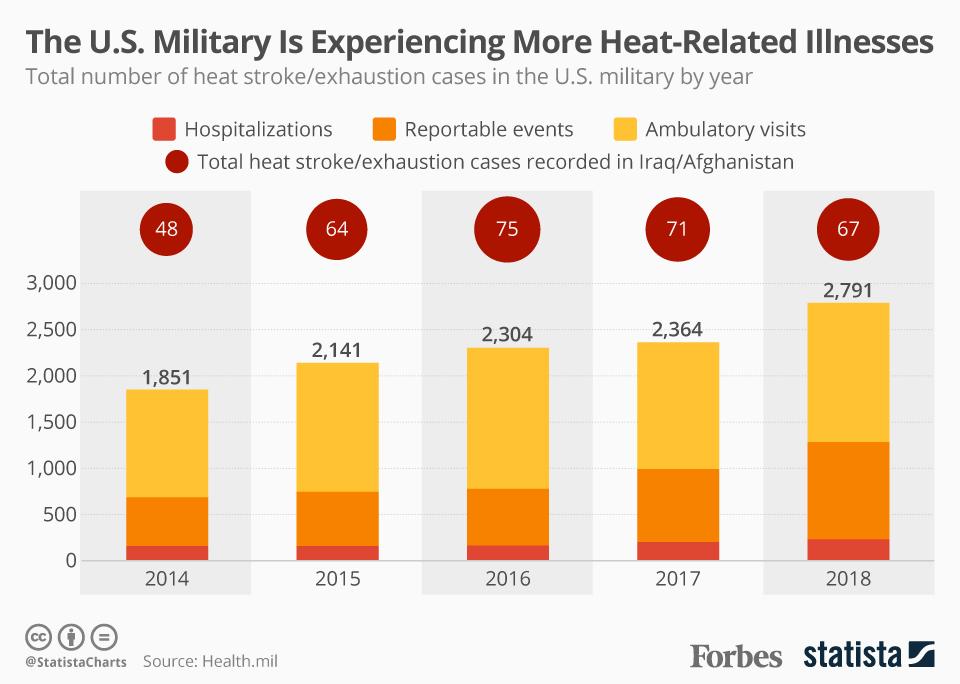 A report from the Union of Concerned Scientists is raising concerns about how climate change and soaring temperatures are going to impact the U.S. military in the years ahead. The research analyzed the increasing frequency of days with dangerous heat at sizeable Army, Air Force, Marine Corps and Navy installations in the contiguous United States, finding that by mid-century, those facilities will experience nearly five times as many days with a heat index above 100°F as they have historically. The results imply that living, working and training at U.S. military bases is going to become riskier and more challenging over the next few decades, impacting every branch of the armed forces.
Data from the Military Health System shows that the military is already experiencing a spike in illnesses caused by extreme heat. Worryingly, very few of those cases are occurring in Middle East where troops have to cope with extreme temperatures on a daily basis. Last year, there were nearly 2,800 cases of heat-related illness among active-duty members of the military and only 67 of those were recorded in Iraq and Afghanistan. Back in 2014, the number of cases was substantially lower at 1,851. That year, 48 of those cases were documented in Iraq and Afghanistan.
Illustrating the extent to which the problem is prevalent on the home front, 40% of all heat-related illness cases over the past five years occurred on five sprawling bases in the Southeast of the United States - Fort Benning in Georgia, Fort Bragg in North Carolina, Camp Lejeune/Cherry Point in North Carolina, Fort Campbell in Kentucky and Fort Polk in Louisiana. During the same period, only 8% of total heat-related illness cases occurred outside the United States. The Military Health System states that "even though numerous effective countermeasures are available, heat-related illness remains a significant threat to the health and operational effectiveness of military members and their units and accounts for considerable morbidity, particularly during recruit training in the U.S. military".