Map: The best snow totals forecast map for this lake-effect storm
by
Mark Torregrossa, MLive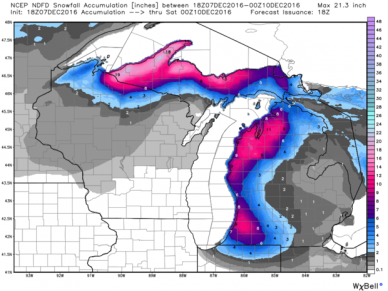 You get a lot of snowfall graphics thrown at you now with the internet and hundreds of amateur meteorologists.
Even us meteorologists at all the various media outlets and National Weather Service offices distribute varying snowfall forecast graphics.
So I thought I would post what I consider the single best snowfall forecast graphic for this coming lake-effect snowstorm.
The snowfall forecast above in a composite of the snow forecasts from each of the National Weather Service offices in the Great Lakes region. Each office forecasts for a certain set of counties in Michigan. Then NOAA (main branch of the National Weather Service) takes all of the snow forecasts and weaves them together into the National Digital Forecast Database.