Photos: In drought-stricken Malawi, rains just 'don't come'



by PBS NewsHour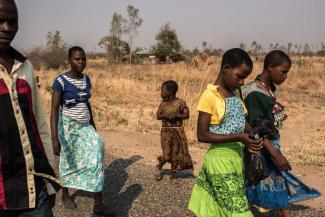 Drought associated with the El Nino weather pattern has created famine conditions throughout Southern Africa with more than 60 million people dependent on food aid. Photo by Andrew Renneisen/Getty Images
Southern Malawi's dry, crusty fields used to be waist-high with corn. But two consecutive years of low rainfall have meant scarce harvests and have forced farmers to change just about everything they know about farming.
"This is one of the worst droughts I have seen in the past 10 years," said Elisha Kapalamula, World Vision's emergency response manager in Malawi, who grew up in the Southern African country.
If the drought continues and farmers feel like they have no other options, they will move from rural areas into the cities in search of work, splitting families apart, he said by phone from the capital Lilongwe.
"Malawi is one of the poorest countries in the world," said Michelle Nunn, president and CEO of CARE USA, who visited Malawi recently to assess El Nino's effects of repeated floods and droughts.
Weeds grow in a corn field in the village of Ngwelelo, one of the drought-stricken areas in Malawi. Photo by Andrew Renneisen/Getty Images
In the country of about 18 million people, more than one-third are in danger of not having enough food, she said.
"When you're already living in poverty … and the rains don't come, you keep thinking that they will come," she said. Without pre-existing resources, the challenges are much greater.
...
In the village of Ngwelelo, near Zomba in southern Malawi, people water seedlings at a work for food program run by World Vision International and the World Food Program. Photo by Andrew Renneisen/Getty Images
...
Women in Malawi listen to a briefing on the food distribution process outside a school in the village of Malikopo in southern Malawi. Photo by Andrew Renneisen/Getty Images
People wait in line for food aid at a school in the village of Malikopo, Malawi. In addition to food aid, groups are working with the government to distribute drought-resistant seeds. Photo by Andrew Renneisen/Getty Images
A woman carries corn from a CARE food distribution site in drought-affected southern Malawi. Photo courtesy of GLOBE Tv/CARE
Faida Rabison holds her daughter Ness, 11 months, who is suffering from severe malnutrition at the Ngalou Rural Hospital in Chikwawa, Malawi on Sept. 9. Photo by Andrew Renneisen/Getty Images
Dinesi Majawa pauses after watering his garden at his family home in the village of Masale, Malawi. Photo by Andrew Renneisen/Getty Images
A child eats while an emaciated dog watches in the village of Jekete in southern Malawi, one of the areas most affected by drought. Photo by Andrew Renneisen/Getty Images